SYDNEY, May 21, 2009 (AFP) - A young child and a Mexican woman visiting Australia on Thursday became the country's sixth and seventh confirmed cases of A/H1N1 flu, as authorities closed a school attended by infected children.
The 51-year-old woman is believed to have arrived in Melbourne from Mexico earlier in the week, and presented to a city hospital suffering flu-like symptoms on Wednesday, officials said.
She has been quarantined along with two family members and is reasonably well, Victoria state's Health Minister Daniel Andrews said.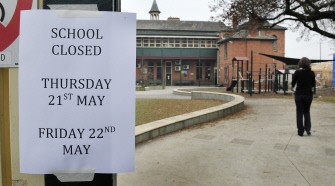 A woman walks into the Clifton Hill primary school in Melbourne on May 21, 2009, closed until next week with its 51 students provided with anti-viral drugs after two brothers there were diagnosed with swine flu (AFP photo)
The child, aged under five and whose gender was not disclosed, began showing "respiratory symptoms" after returning to Sydney from the United States last week, health officials said.
"(Secondary) tests have come back positive, but we are still awaiting confirmation of the test results from the World Health Organisation," said Kerry Chant, chief health officer for New South Wales state.
The child's mother, 28, was Wednesday confirmed to have contracted the virus on a trip to the United States.
She was tested and had received anti-viral treatment overseas and appeared to have fully recovered before her return to Australia.
Authorities fear her travelling companion, who had a respiratory illness during their flight to Australia, may also have the virus, and are awaiting test results.
Meanwhile, national Health Minister Nicola Roxon said a Melbourne primary school had been closed until next week and 51 students provided with anti-viral drugs after two brothers were Wednesday diagnosed with swine flu.
The boys, aged nine and 10, and their 12-year-old brother, tested positive for the (A)H1N1 virus after returning from a family holiday to Disneyland, in the United States, on May 12, she said.
"They all seem to have quite mild symptoms, but you would have noticed that the primary school in Victoria has been closed," said Roxon.
"Really the closure is an attempt to contain the spread of this disease. We've seen around the world that schools are places where the disease can spread easily."
Roxon said authorities had decided not to close the older boy's school because he had been there for less than an hour on Monday.
"The situation is developing quite quickly and I suspect that later in the day there will be more cases to add to that number," Roxon said.
Another 28-year-old woman was earlier this month diagnosed with a weak strain of swine flu after returning from Los Angeles fully recovered from a flu-like illness. She was Australia's first swine flu case.
The number of worldwide swine flu infections surged past 10,000 Wednesday, as the 41-country epidemic gathered pace in the United States and the first case was recorded in Tokyo, with 80 confirmed deaths, mostly in Mexico.