SYDNEY, Feb 22, 2011 (AFP) - Australia on Tuesday expressed its solidarity with New Zealand after the southern city of Christchurch suffered a violent earthquake, saying the latest disaster "just isn't fair".
Speaking in Canberra, Australian Foreign Minister Kevin Rudd said this was a "horrible time" for the people of Christchurch who are still reeling from a large quake which devastated the city of 340,000 in September.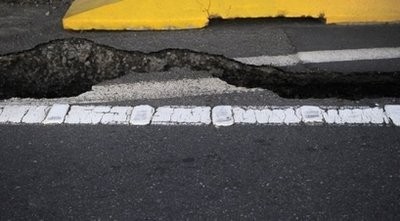 AFP file - Photo illustration shows cracked asphalt following a powerful earthquake.
Details of the latest tremor are sketchy but officials have confirmed there are multiple fatalities and that numerous people remain trapped in buildings which collapsed in the face of the 6.3-magnitude lunchtime tremor.
"The damage is large, it's the middle of the working day, and the earthquake has not been deep from the surface," Rudd told the National Press Club.
"For the people of Christchurch this just isn't fair."
Christchurch suffered the most destructive quake to hit New Zealand in 80 years last September when a 7.0-magnitude tremor damaged 100,000 homes. However, no one was killed in the quake which struck before dawn.