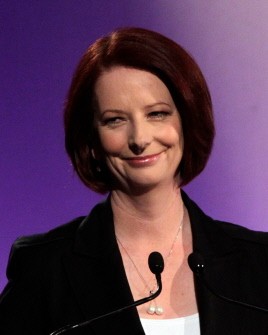 Julia Gillard smiles as she takes on Opposition Leader Tony Abbott during the leaders' debate at the National Press Club in Canberra on July 25, 2010. AFP
SYDNEY, July 28, 2010 (AFP) - Australian Prime Minister Julia Gillard on Wednesday angrily denied opposing popular welfare increases after damaging cabinet leaks rocked her campaign for next month's elections.
The centre-left leader admitted raising questions about a 50-billion-dollar (45 billion US) boost to old-age pensions and paid leave for new parents, but said she had always supported the measures.
"I understand that some might say that if you don't sign on the bottom line ... as soon as a proposal is put in front of your nose, somehow you lack passion or enthusiasm for it," she told reporters in Adelaide.
"Frankly, I believe that analysis is completely ridiculous and absurd."
She also flatly denied telling cabinet colleagues that she objected to the pension increase because "old people never vote for us".
The passionate defence from Australia's first female prime minister was a departure from her low-key campaign for August 21 elections, which has been threatened by policy blunders and a slump in the latest opinion poll.
Gillard, 48, is seeking a popular mandate after coming to power in a sensational Labor Party coup that ousted ex-leader Kevin Rudd in late June.
"You can be passionate about doing something and hard-headed in getting it done," said Gillard, adding she was "angry" about the leak.
"So if people want a prime minister who will have a 50-billion-dollar expenditure before them and sign away without even a question asked, well I'm not it.
"I will always, always examine expenditure proposals, examine them rigorously, hold them up to the light, ask every question, require every answer to get to the bottom of what we need to know."
The damaging leak apparently came from a cabinet source, raising questions about whether it was linked to a disgruntled Rudd. But the former prime minister denied trying to destabilise Gillard.
"Mr. Rudd remains committed to the re-election of the government," his spokesman said.
The opposition Coalition leapt on the story, claiming Gillard's government -- largely unchanged from Rudd's administration -- lacked unity and was in disarray.
"She's got a situation where her government is falling into chaos," shadow cabinet member Andrew Robb told ABC Radio.
The elections, where Labor is fighting to avoid becoming the first one-term government since World War II, are seen as a battle over immigration, the economy and climate change.
But Gillard's plans for a refugee centre in East Timor have been mired in confusion, while her 12-month consultation of a "citizens assembly" on introducing a carbon tax outraged environmentalists and the Greens party.
Meanwhile the opposition has contrasted its leader, father-of-three Tony Abbott, with the unmarried, childless Gillard, who has faced several questions about whether she plans to wed her partner, former hairdresser Tim Mathieson.
The conservative Coalition needs a 2.3 percent swing to return to power, less than three years after Rudd's convincing election victory ended its 11 years of rule in November 2007.
The latest Newspoll survey released on Monday showed the Coalition had narrowed Labor's lead to six percentage points, while Gillard's approval rating was also sharply down.