Australian Prime Minister Kevin Rudd said Monday he had ratified the Kyoto Protocol on climate change in his first official act after being sworn in as leader.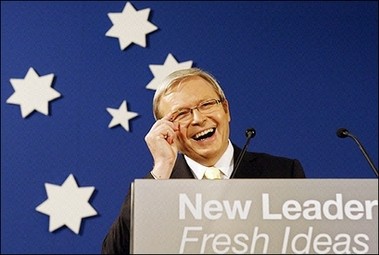 Australian Prime Minister Kevin Rudd (Photo: AFP)
"Today I have signed the instrument of ratification of the Kyoto Protocol," Rudd said in a statement.

"This is the first official act of the new Australian government, demonstrating my government's commitment to tackling climate change."

Rudd, who ousted conservative leader John Howard in elections nine days ago on a platform that included reversing the previous government's policy and ratifying Kyoto, was sworn in just hours earlier.

The Labor Party leader said ratification of the United Nation's treaty on combating global warming was approved by the first meeting of the government's executive council and later by the governor general.

Under United Nations guidelines, ratification of the document will enter into force in 90 days meaning Australia will be a full member of the Kyoto Protocol before the end of March 2008, Rudd said.

The move leaves the United States as the only major developed nation that has refused to ratify the global pact.

Rudd said the Kyoto Protocol was considered to be "the most far-reaching agreement on environment and sustainable development ever adopted."

"Australia's official declaration today that we will become a member of the Kyoto Protocol is a significant step forward in our country's efforts to fight climate change domestically -- and with the international community," he said.

Rudd will undertake his first foreign visit as prime minister next week when he travels to the Indonesian resort island of Bali for the opening of the high level segment of a United Nations conference on climate change.

The conference, which began Monday, is expected to negotiate a "Bali Roadmap" for the next round of global efforts on climate change when the first round of targets under the Kyoto Protocol expires in 2012.