Australian rescuers cut their way through to towns splintered by a monster cyclone, as officials urged people stranded by the storm to stay calm until help arrives.
Authorities on Friday announced the first death linked to top-strength Cyclone Yasi, which roared into Queensland state Thursday: a young man who suffocated on fumes from a generator running in an enclosed space.
"This is a tragic loss of life and again our condolences go to that young man's family and friends," Queensland State Emergency Services Minister Neil Roberts said, urging people without power to ventilate if using generators.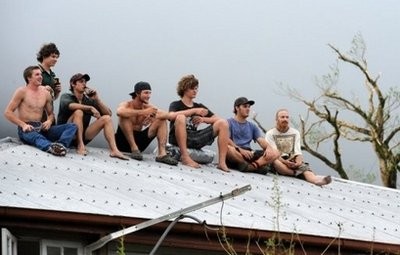 Local residents sit on a tin roof as they watch a thunderstorm approaching after Cyclone Yasi tore through Tully, on February 3.
The biggest storm to hit Australia in a century wrought huge damage to small coastal communities, cutting some of them off completely. But while two men were reported missing, there were no confirmed deaths caused directly by Yasi.
Hundreds of rescuers were battling their way through fallen trees, powerlines and wreckage to get to towns pummelled by the category five cyclone, while tens of thousands languished without power, water or communications.
Officials appealed to those stranded to be patient as rescuers and workers tried to reach them and restore essential services.
"We do understand that many people in the highly-impacted areas are getting anxious about the level of support and contact they are able to have with emergency authorities," Roberts told reporters.
"We just ask them to be patient," he said, adding that large teams of emergency workers were moving into the stricken area between Mission Beach and Cardwell, which bore the brunt of the storm.