SYDNEY, Feb 10, 2009 (AFP) - Australians have responded to the plight of wildfire victims with unprecedented generosity, charities said Tuesday, pledging more than 30 million dollars (20 million US) to relief appeals.
The Red Cross said its public appeal for the disaster that has so far claimed 181 lives had topped 28 million dollars late Tuesday, up from seven million dollars 24 hours earlier.
"It's gone incredibly well, it's wonderful," a Red Cross spokeswoman said.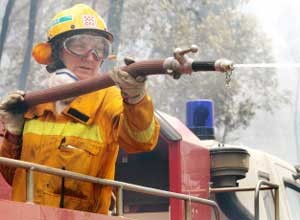 A Country Fire Authority (CFA) dampens down the fire after saving houses north of Healesville, some 65 km north of Melbourne on Feb. 10, 2009 as firefighters battle to save Australian communities (Photo: AFP)
The organisation also reported more than 20,000 people had contacted it wanting to donate blood since the scale of the crisis became apparent, up from a monthly average of 1,500.
The Red Cross website struggled to cope with the numbers wanting to donate money, forcing it to post a message asking donors to be patient.
Corporate Australia contributed to the appeal, with Victorian-based gaming company Tabcorp donating two million dollars and each of the country's four major banks chipping in one million.
Its appeal was set to be boosted late Tuesday by collections at the Australia-New Zealand one-day match, while the Australian Olympic Committee donated 800,000 dollars.
A separate Salvation Army appeal raised five million dollars, exceeding the response seen in the wake of the 2004 tsunami and Cyclone Tracey, which killed 71 people in northern Australia in 1974.
"It's incredible," spokesman Pat Daley said. "It's never happened like this before. "It surpasses everything, the tsunami, Cyclone Tracy."
Melbourne city council launched its own appeal, which it kicked off with one million dollars.
State governments around the country also donated similar amounts to various appeals.
Commercial television stations are planning televised appeals for the bushfire victims similar to ones that raised tens of millions for the tsunami.
However, police in Queensland state said they were investigating reports fraudsters were collecting money for fake appeals.
The state's deputy police commissioner Kathy Rynders said anyone who attempted to impersonate a charity worker faced up to five years in prison.
The consumer watchdog, the ACCC, this week warned donors to be careful not to be taken in.
"In the past, such as during the 2003 Canberra bushfires and the December 26 2004 Asian tsunami, scammers took advantage of people's generosity and kindness," ACCC chief Graeme Samuel said.
"These involved a scammer collecting money by pretending to be a real charity. Not only do these scams cost people money, they also divert much needed donations away from legitimate charities and causes."