Funeral mourners are chanting against Bahrain's rulers as they bury dead from a crushing assault on pro-reform protesters that has brought army tanks into the streets of the tiny Gulf nation.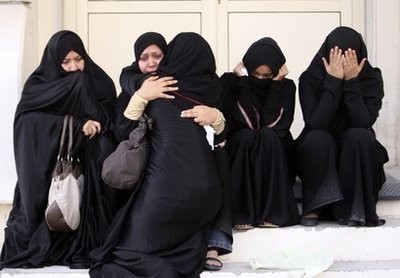 Bahraini women wait outside a hospital in Manama, Bahrain, Thursday, Feb. 17, 2011, where victims of the confrontation between anti-government protestors and riot police were being treated
The first funerals are taking place outside a village mosque for three men killed in the pre-dawn attack on a protest encampment in Bahrain's capital Manama. At least two others died in the fierce crackdown and more than 200 were injured.
About 200 Shiite mourners waved banners and cried slogans Friday against Bahrain's Sunni monarchy as the burials began.
The protest began this week as a call for political reforms, but appears to be shifting to a call by Bahrain's majority Shiites to bring down the Sunni leadership.