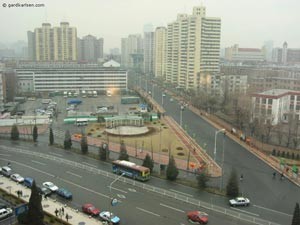 Beijing environment now is improved
The central government and Beijing authority had invested nearly 100 billion yuan (12.5 billion dollars) to fix the city's air pollution problems, the State Environmental Protection Administration said.
"The prevention and control of air pollution in Beijing has yielded remarkable results," the administration's pollution control department said in a report.
The department's deputy director general, Li Xinmin, outlined at a press briefing for foreign journalists measures implemented by authorities as part of the anti-pollution campaign.
Beijing has replaced hundreds of coal-burning boilers with gas-based ones, improved the city's vehicle emission standards and upgraded the quality of fuel for automobiles, Li said.
The city has also phased out 28,000 old taxies and 3,900 old diesel-powered buses.
In addition, Li said Beijing had started moving the capital's worst polluter, state-owned steel giant Shougang Group, out of its western suburbs and suspended operation of Beijing Chemical Works.
Nevertheless, with the start of the Games exactly two years away on Tuesday, Li conceded more needed to be done, particularly in regards to heavily polluting cars.
"By 2008, Beijing has to phase out 300,000 yellow label cars, this is an effective approach to reduce particulate matter," Li said.
Currently, Beijing vehicles are issued green or yellow labels according to their emission level.
Particulate matter is a mixture of harmful solid and liquid particles that include carbon, sulfates, nitrates, metals, acids and are suspended in air.
After it won the Olympic bid, China promised to make Beijing an "ecological city" with "green hills, clear water, grass-covered ground, and blue sky."
Source: AFP