The opening ceremony of the Beijing Olympic Games began in the National Stadium, also known as the Bird's Nest, in north Beijing at 8pm on August 8.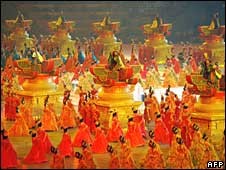 Dancers perform in the opening ceremony for the Beijing Olympics 2008 (Photo: AFP)
The opening ceremony of the 29th Olympic Games featured as many as 10,500 athletes, representing 205 countries and territories around the world, according to Xinhua news agency.
The event also involved Chinese President Hu Jintao and more than 80 heads of state and government and royals. Olympic Beijing 2008 will take place during 16 days.
The art performance of the opening ceremony, titled the "Beautiful Olympics", showcased China's 5,000-year civilization and its early encounters with the rest of the world.
Staged in the National Stadium, the 50-minute show consisted of two parts, namely "Brilliant Civilization" and "Glorious."
The first part "Brilliant Civilization" displayed China's age-old civilization with actors performing Chinese scroll painting, Chinese characters, movable-type printing and the Silk Road.
The second part, comprising three chapters of Starlight, Nature and Dream, highlighted China's modern achievements and promising future.
At the end of the spectacle, thousands of volunteers ran into the field carrying pictures of 2,008 smiling faces of children around the world, highlighting the Games' theme of "One World, One Dream."
Sources said that the artistic performance, a core part of Friday's opening ceremony, involved some 16,000 performers.
The athletes are competing in 28 sports.