The Berlin film festival wrapped up Sunday after handing a gripping Iranian drama, "Nader and Simin: A Separation", its Golden Bear top prize in a year spotlighting the country's embattled directors.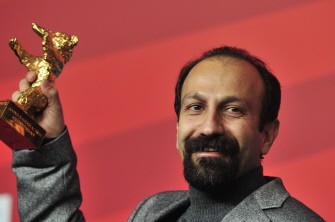 Iranian director Asghar Farhadi poses with the Golden Bear prize awarded for his film "Nader and Simin: A Separation" during a press conference after the awards ceremony of the international Berlinale film festival on February 19, 2011 in Berlin.
The picture by Asghar Farhadi, which also swept the acting prizes, tells the story of a crumbling marriage and examines the conflict between strict religious observance and the shifting values of the educated urban elite.
It had been the hot favourite among 16 international contenders to win the coveted Golden Bear at the first major European film festival of the year, which tends to reward timely, politically charged cinema.
Farhadi, who had already won a best director prize for his haunting film "About Elly" at the 2009 Berlinale, paid tribute to banned Iranian director Jafar Panahi in his acceptance speech.
He told reporters later that film-making was his means of political expression, rather than public declarations, and that the prize would ensure wide exposure for his picture.
"I prefer to make my films and try to express myself in my films. I am a film-maker, I am not a hero," he said after the awards ceremony.
"If I had said something on the stage, would that have changed anything? But my films can change something."
The 11-day event focused on the plight of Iran's film-makers, offering a seat on the jury to Panahi, presenting a retrospective of his work and leaving one chair vacant for him at every competition screening.
An Iranian court in December sentenced the award-winning director to six years in prison and barred him from making films for 20 years, although he is free on bail pending an appeal, but forbidden to travel abroad.
The international jury led by Italian-American actress Isabella Rossellini also gave the Silver Bear prizes for best actor and best actress to the entire ensemble of "Nader and Simin".
Berlin's daily Der Tagesspiegel said that the picture offered incisive insights into the disaffection behind the current street protests in Iran and the Arab world.
"The Golden Bear goes to a disturbing drama about the social dynamite embedded in the new Arab start in the modern age: if you've seen the film, you understand the news differently," it wrote.
The film tells the story of a middle-class woman Simin, who separates from her husband Nader. He winds up with both their 11-year-daughter to care for as well as his Alzheimer's-stricken father.
So to help him at home, Nader hires a poor young pregnant woman, who keeps her employment secret from her high-strung husband. The decision proves fateful when she has a miscarriage at work that her family blames on Nader.
Each character is thrust into a wrenching moral conflict over the child's death, with a web of lies rapidly entangling each character.
The Silver Bear runner-up Jury Grand Prix went to the visually arresting "The Turin Horse" by Hungarian veteran Bela Tarr, tracing the hardscrabble lives of two peasants and their long-suffering steed.
German film-maker Ulrich Koehler won the Silver Bear for best director for "Sleeping Sickness" about European aid workers in Africa caught between fascination and frustration with their environment and a longing for home.
US independent director Joshua Marston and his co-writer Andamion Murataj claimed best screenplay for "The Forgiveness of Blood", the story of an Albanian blood feud.
Marston's Colombian drug mule drama "Maria Full of Grace" picked up a Silver Bear in Berlin in 2004.
Farhadi's film beat out high-profile rivals such as Ralph Fiennes's directorial debut, a contemporary retelling of the Shakespeare tragedy "Coriolanus", and the financial crisis thriller "Margin Call" starring Kevin Spacey and Demi Moore.
And it came on the day Iran fined and released two German journalists who had been held for more than four months, in a case that had strained relations between Berlin and Tehran.