Silvio Berlusconi still has plenty of political clout even as he braces for a bruising week in which judges are set to request he stand trial in a case involving a dancer known as "Ruby the Heart-Stealer".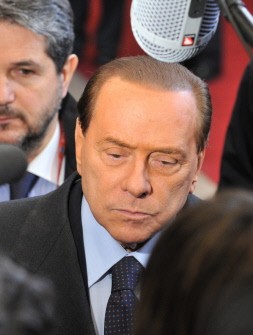 Italian Prime Minister Silvio Berlusconi speaks to media upon arrival at the EU summit on February 4, 2011 at the European Council headquarters in Brussels.
The inquiry into Berlusconi's alleged liaisons with prostitutes -- denied by the prime minister -- was first reported last month and has dominated Italian newspapers since then, with lurid headlines and pictures of an array of women.
But away from the gossip pages, analysts say the Italian prime minister has the vital backing he needs in parliament and is by no means finished despite the end of his alliance with speaker of parliament Gianfranco Fini.
"The centre-right trenches are holding well, at least for the moment," said Massimo Franco, a columnist for the Corriere della Sera daily.
Berlusconi has pushed ahead with moves towards federalism -- a key demand from his last remaining major ally in government, the Northern League party.
And he has also outlined an ambitious plan to boost Italy's sluggish economic growth, which is due to be approved at a cabinet meeting on Tuesday.
On Thursday he scored something of a symbolic victory when parliament voted with a majority of 315 to reject a request from prosecutors to search the offices of his accountant as part of their sex scandal investigation.
It was his strongest majority since he broke with Fini last year.
"Berlusconi comes out stronger from the vote, in which the centre-right gave him full solidarity," said Marcello Sorgi, a columnist with La Stampa.
Stefano Folli, a columnist with business daily Il Sole 24 Ore, said: "There has been no defection and Berlusconi has kept full control of his side."
"The opposition has shown its weakness yet again," he said.
Franco said the Northern League, which has hinted at the possibility of early elections, "continues to prefer an axis with a prime minister in difficulty rather than with a pathologically weak and confused opposition."
While Berlusconi's approval ratings have fallen in recent weeks -- from 40 percent in December to 35 percent in January according to the latest poll -- the crucial alliance with the Northern League has held firm.
The poll released earlier this week also showed that Berlusconi's People of Freedom party (PDL) still has the highest approval level, at 29.5 percent, while the main opposition Democratic Party (PD) is at 25.5 percent.
The opposition, analysts said, appears to be counting on prosecutors in Milan and civil society protests to push Berlusconi out.
On Saturday, leading leftist intellectuals including Umberto Eco and Roberto Saviano, the author of a book on the Camorra crime syndicate, are due to take part in an anti-Berlusconi political meeting in Milan.
They have said they want to free Italy "from its corrupt and corrupting government, from attacks against the constitution and against prosecutors and from the threats to the dignity of women."
Women's groups are also planning a major rally in Rome on February 13.