BEIJING, Aug 17, 2011 (AFP) - US Vice President Joe Biden arrived in China Wednesday to try to revive his country's image after a historic debt downgrade and build a rapport with the man expected to be the Asian power's next leader.
Biden flew into Beijing, where he will meet top Chinese leaders including his counterpart Xi Jinping, who is expected to be named as successor to President Hu Jintao next year and remains virtually unknown in US policy circles.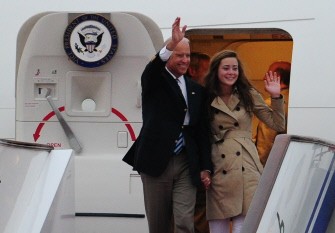 AFP - US Vice President Joe Biden (L) and his daughter Ashley Blazer Biden arrive for his visit to China and Mongolia at the Beijing Capital International Airport on August 17, 2011
During his five-day visit, the 68-year-old will stress the strengths of the US economy, just weeks after Washington came close to default, prompting a storm of criticism in China -- the largest foreign holder of US debt.
Biden will focus on building a working relationship with Xi, but his trip risks being overshadowed by China's concerns about the safety of its US investments, particularly after a US credit downgrade.
The People's Daily, mouthpiece of China's Communist Party, published a front-page comment piece ahead of his arrival Wednesday urging Biden to "put forward concrete measures" to address Beijing's worries.
"China, as the biggest foreign creditor of the United States and the largest foreign holder of dollar assets, is naturally more concerned about US policies than others," said the article, printed in the paper's foreign edition.
China is the largest holder of US debt with around $1.17 trillion in US Treasuries by the end of June, and its state-run media has run a series of scathing commentaries over the crisis, calling the United States irresponsible.
On Wednesday, the official Xinhua news agency said it expected Biden to "assure Chinese leaders of Washington's capacity, will and commitment to tackle its fiscal and economic challenges".
But Xinhua warned that the August 2 debt deal was insufficient to resolve what it called the "runaway debt problem" in the world's largest economy's, saying it had left a "ticking time bomb".
Ahead of his arrival, Biden used an interview with one of China's most prominent financial magazines to put up a robust defence of his country's economy.
"I've been in public service for a long time -- 38 years, in fact. During that time, many people have said, as some are saying now, that the US is in decline. They were wrong then, and they're wrong now," he told Caijing magazine.
"(The US government) is deeply committed to maintaining the fundamentals of the US economy that ensure the safety, liquidity, and value of US Treasury obligations for all of its investors."
Lael Brainard, undersecretary of the Treasury for international affairs, said Monday the number-two US leader would tell China it should focus on its own economic reforms.
Brainard said that Biden would suggest Beijing let its currency appreciate and shift from a reliance on exports to an economy based on consumption.
Biden's trip also comes amid concern in the United States about China's human rights record, with calls for the vice president to visit Liu Xia, the wife of jailed dissident writer Liu Xiaobo.
Activist groups say she has been under house arrest since the end of last year, when Liu was awarded the Nobel Peace Prize -- a claim denied by Beijing.
The New York-based Human Rights Watch has also said Biden should press publicly about the treatment of critics including missing rights lawyer Gao Zhisheng and Chen Guangcheng, who exposed abuses in China's one-child policy.
As part of the trip, Xi will take Biden to the southwestern city of Chengdu, just 300 kilometres (186 miles) from Daofu county where a monk set himself on fire and died in an apparent protest Monday, sparking a crackdown.
In Chengdu, the two vice presidents will dine at an informal restaurant and Biden will deliver a speech, according to Tony Blinken, the vice president's national security adviser.
The state-run Global Times newspaper reported Wednesday that the boomtown has already attracted investment from 189 of the Fortune 500 firms.
At the end of his China visit, Biden heads to Mongolia and close US ally Japan.