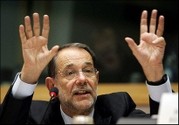 European Union foreign policy chief Javier Solana addresses a meeting at the EU Headquarters in Brussels (AFP Photo)
Six major powers were to meet here for crunch talks on whether to urge the UN to slap sanctions on Iran for failing to bow to international demands to rein in its suspect nuclear programme.

After months of talks with Iranian negotiators, international patience is running out with the EU foreign policy chief Javier Solana on Friday acknowledging that diplomacy may have run its course.
"It is up to the six countries -- the five countries of the Security Council (plus Germany) -- to decide whether the time has come to follow the second track: referring the case to the Security Council," he told reporters in Paris.
Solana has led a delicate diplomatic dance with the Islamic Republic over past weeks, holding a series of secretive talks in European capitals after Iran failed to meet a UN deadline to halt uranium enrichment by August 31.
"Iran today has not made the commitment to suspend," he said, after weeks of meetings with top Iranian nuclear negotiator Ali Larijani.
While "the door to negotiations is and will be always open," Solana said "dialogue could not last forever."
Washington has long led charges that Iran's nuclear programme is a covert grab for atomic weapons, something that Tehran has hotly denied arguing that the nuclear programme is for civilian energy purposes.
The United States, and latterly Britain, are now leading moves to draft a resolution calling on the UN Security Council to impose sanctions which could go before the world body as early as next week.
Foreign ministers from Britain, China, France, Germany, Russia and the United States were gathering in London Friday for the talks due to start at 1600 GMT.
US Secretary of State Condoleezza Rice, who will attend Friday's meeting of the five veto-wielding permanent UN Security Council members plus Germany, said the Iran effort would now shift from negotiations to punishment.
"What the ministers are going to do... is to say 'We've done the Solana effort, and now we'll have to move to sanctions'," she said Thursday during a surprise visit to Baghdad.
The talks come after North Korea triggered global alarm by announcing it was ready to carry out a nuclear test, which analysts say could severely aggravate regional tensions.
Britain's ambassador to the United Nations, Emyr Jones Parry, said earlier Thursday that once the foreign ministers give the green light, discussions would begin at the UN next week on a sanctions resolution against Iran.
Britain "will be discussing with its partners and with members of the council the basis for action by the council to adopt measures under Article 41 against Iran," he said.
Article 41 of the UN Charter allows the Security Council to impose diplomatic and economic sanctions on member nations to enforce compliance with its resolutions.
But despite the confident statements from the United States and Britain, there were no indications from either Russia or China, both economic allies of Iran, that they had reversed their strong reticence to sanctions.
Russian Foreign Minister Sergei Lavrov late Thursday accused the United States of complicating efforts by the international community to resolve the standoff.
Sanctions were "extreme measures," he argued, saying Russia would "see what extra possibilities exist to pursue multiparty diplomatic efforts."
Rice has said the United States wants a graduated series of sanctions, to be implemented through multiple UN resolutions that would ramp up pressure on Iran if it persists with its nuclear programme.
The first set of measures is expected to focus on preventing the supply of materiel and funding for Iran's nuclear or ballistic missile programmes.
Other steps could include asset freezes and travel bans on officials linked to Tehran's weapons programs.
Even if China and Russia agree to the first set of sanctions, many analysts say the timid measures being considered would have little immediate impact.
"You can get a peanut of a sanctions resolution passed by the UN, but it won't be strong enough to significantly affect Iran's behavior," said Joseph Cirincione, a non-proliferation expert at the American Center for Progress in Washington.
Source: AFP