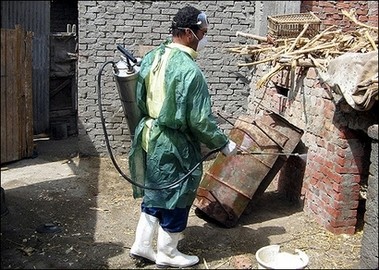 An Egyptian health department worker disinfects a house in Al-Abiyat, north of Cairo in 2005 (AFP Photo)
An Egyptian woman died of bird flu on Dec. 24, hours after tests confirmed she and two other members in her family had been infected with the deadly H5N1 virus, according to the World Health Organisation (WHO).
WHO regional adviser for communicable diseases surveillance Hassan el-Bushra said the 30-year-old woman had been hospitalised on Dec. 17, but doctors had not immediately suspected bird flu as she denied having had contact with poultry.
The woman was part of an extended family of 33 living in a single house in a village near the town of Zifta in Gharbiya province, about 80 kilometres north of Cairo . She was the third family member diagnosed with bird flu in 24 hours.
Earlier the same day, Bushra confirmed that two siblings from the same house, a brother, 26, and sister, 15, had the virus. The WHO adviser said the family raised ducks in their home, and the brother and sister had slaughtered the flock after a number of ducks had become sick and died.
Shortly after being tested positive to the deadly virus, the woman was rushed to a Cairo hospital, but died shortly thereafter. Her death brings the number of total human deaths from H5N1 in Egypt to eight, and the number of infection cases among humans to 18.

Source: AFP