An explosion shook a quake-damaged Japanese nuclear power plant Monday but the reactor was apparently not breached, the chief government spokesman Yukio Edano said.
Edano, citing information from the plant operator TEPCO, said the reactor container was likely undamaged and there was a low possibility of major radiation.
A TEPCO official said some workers were injured but gave no numbers or details.
Japan's nuclear safety agency said the blast, at the number 3 reactor of the Fukushima No. 1 plant, was believed to be caused by hydrogen.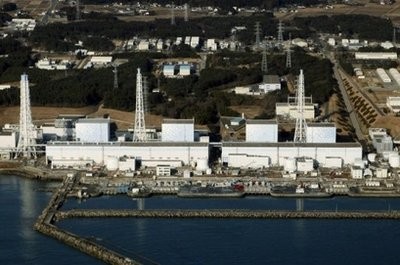 The quake-damaged Fukushima nuclear power plant in the Japanese town of Futaba, on March 12
A hydrogen explosion had hit the number 1 reactor at the same plant on Saturday, a day after an earthquake and tsunami devastated the northeast coast.
Authorities have declared an evacuation zone within a 20 km (12 mile) radius of the plant and evacuated 210,000 people.
"We have strongly advised all the people still within the evacuation area to go inside nearby facilities," said nuclear safety agency spokesman Ryo Miyake.
Some 746 people -- patients, elderly people and care workers at three hospitals and nursing homes -- remained within the 20 km area Monday.
A Fukushima official said 311 had so far been moved out.