CARACAS, Sept 27, 2010 (AFP) - Venezuelan President Hugo Chavez's party won most seats in key legislative elections, but strong opposition gains robbed him of enough votes to easily pass reforms, electoral officials said Monday.
The leftist president's party won at least 94 of the 165 seats in the National Assembly, and the opposition had at least 62, officials said in reporting initial results from a gripping overnight count.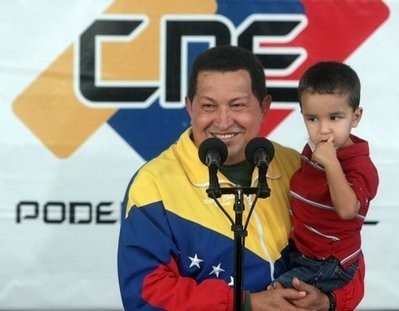 Handout picture from the Venezuelan Presidency depicting President Hugo Chavez and his grandson Jorge after casting his vote in Caracas on September 26. AFP
"We have to keep strengthening the (socialist) Revolution!! A new victory for the people. I congratulate everyone," Chavez wrote in his Twitter account.
But the results were set to shake up an assembly Chavez has dominated for the past five years, as the main opposition will return en masse after boycotting the last vote in 2005.
"It's been demonstrated that the country has an alternative, formed thanks to the convergence of very different people," said Ramon Guillermo Aveledo, spokesman for an opposition coalition that formed to take on Chavez.
The electoral council did not release full vote numbers but the opposition claimed its candidates had won 52 percent, but failed to get a majority of seats due to controversial recent changes in voting districts.
Such a result would be a blow for Chavez, two years before presidential elections in the oil-rich nation, where he seeks a third six-year term.
More than 66 percent of some 17 million voters turned out in the key vote, as tensions played out on online social networks during the lengthy vote count.
The ruling United Socialist Party of Venezuela (PSUV) had sought to win 110 lawmakers, or two thirds of the congress, to keep pushing through reforms under Chavez's "socialist revolution."
Chavez, who was welcomed at a hillside slum polling station by cheering, red-clad crowds, dominated the end of campaigning.