LONDON, July 8, 2010 (AFP) - BP wants to fix its Gulf of Mexico oil well by July 27, when it publishes its latest earnings, but the target is threatened by the region's hurricane season, The Wall Street Journal reported on Thursday.
"In a perfect world with no interruptions, it's possible to be ready to stop the well between July 20 and July 27," the WSJ quoted Bob Dudley, in charge of managing the oil spill, as saying.
Dudley added that this "perfect case" was threatened by the hurricane season and is "unlikely".
BP was meanwhile preparing a series of backup plans, said the WSJ, citing company officials.
"These include connecting the rogue well to existing pipelines in two nearby underwater gas and oil fields," the paper said.
The target date of July 27 is when BP is due to report second-quarter earnings and speak with investors.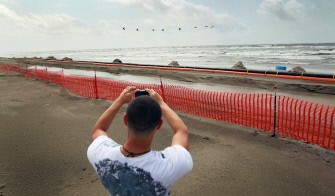 Dustin Pierre, who is part of the BP oil clean up team, takes pictures on the beach after operations were cancelled due to high winds and rough seas on July 7, 2010 in Grand Isle, Louisiana. AFP
BP also wants to show progress by July 20, the day when British Prime Minister David Cameron visits the White House and is likely to speak with US President Barack Obama about BP's future, the paper added.
BP chief executive Tony Hayward was in oil-rich Abu Dhabi on Wednesday amid speculation that the British company is seeking support from sovereign wealth funds following the Gulf of Mexico oil disaster.
It is reportedly seeking the support of foreign sovereign wealth funds (SWF) to stave off possible takeover bids by rivals. BP's share price has plunged in recent months owing to worries about the high cost of fixing the oil spill and massive compensation payments likely to be paid by the group.