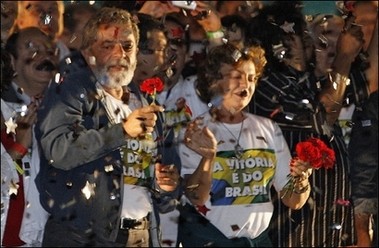 Brazil's reelected President Luiz Inacio Lula da Silva (L) of the Workers' Party (PT) holds a rose next to First Lady Marisa Leticia as they celebrate with supporters in Sao Paulo
Celebrating a landslide re-election, Brazil's leftist President Luiz Inacio Lula da Silva vowed to fight for social justice while at the same time spurring economic growth.
"The poor will take precedence," the self-styled defender of the downtrodden told several thousand jubilant supporters after garnering almost 61 percent of the vote and a lead of more than 21 points over former Sao Paulo governor Geraldo Alckmin.
"Education will improve, employment will improve," the charismatic, bearded president, 61, told the crowd from a tribune set up in the city's Paulista avenue.
"The enemy is now the social injustice we must defeat."
Speaking at a news conference immediately after the outcome of the run-off election was announced, he insisted that while remaining committed to a more just distribution of wealth, he would maintain tough fiscal policies. He expressed confidence economic growth would reach five percent, as compared to a disappointing 2.3 percent last year.
Clad in a T-shirt that proclaimed "Victory is Brazil's," Lula, who has survived a series of scandals that tarnished his first term, also vowed to step up the battle against corruption.
Several thousand people, chanting "ole, ole, ola, Lula, Lula" and setting off fireworks cheered the president, a onetime shoeshine boy and a former metal worker with little formal education.
"For us poor people this victory means food on the table and education for our children," said Beatriz Brandao, a 51-year-old seamstress.
Lula's popularity is attributed in part to the government's flagship social program that hands out cash assistance to more than 11 million needy families.
"The people feel things have improved, and that has no rival," said Lula. "And they realize we have just made the first step," he said.
"We will make our second mandate better than the first," he said.
A leftist who has toned down his once-fiery rhetoric and maintained orthodox economic policies, Lula was buoyed by a healthy, if slow-growing, economy, with inflation down, trade at a record high and a large chunk of public debt paid off ahead of time.
Alckmin, 53, an anesthesiologist backed by the business community, had not called for any major policy changes, focusing instead on a series of scandals that led to the resignation of several of Lula's ministers and top PT officials.
Claims of campaign wrongdoing cost Lula the chance of winning re-election in the October 1 first round election, when he fell 1.4 points short of the simple majority needed to avert a runoff against Alckmin.
Two men tied to Lula's leftist Workers Party (PT) were arrested in September as they allegedly sought to buy information they thought could damage Alckmin's campaign, in the latest of several scandals that emerged over the past years.
Lula has denied any prior knowledge of the affairs and turned up the heat in the run-up to Sunday's election, playing on popular concerns his rival would privatize the giant Petrobras energy company and other state assets.
Voters also elected governors in 10 of Brazil's 27 states, where gubernatorial elections were not decided in the October 1 voting.
The next government will be hampered by a fractured parliament. The PT will have 83 deputies in the 513-seat lower house and 11 mandates of 81 Senate seats. Alckmin's Party of the Brazilian Social Democracy (PSDB) will have 66 deputies and 14 senators, with the remaining seats going to other parties.