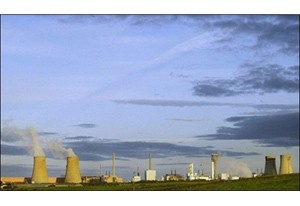 Sellafield nuclear plant in northern England.
British towns will be invited to step forward and volunteer to sit atop an underground nuclear waste disposal bunker in return for investment funds, the Financial Times reported.
Environment Secretary David Miliband will on Wednesday endorse a plan to store radioactive waste from the country's civil nuclear plants up to a kilometre (0.62 mile) underground, the newspapers said without citing its sources.
Though the newspaper did not specify the amount of investment in infrastructure and social services on offer, it said that the cost of building the waste bunker could top 10 billion pounds (18.7 billion dollars, 14.9 billion euros).
It would house 470,000 cubic metres of waste, and could be completed in 40 years, the FT said, citing unnamed senior insiders.
The Nuclear Decommissioning Authority, charged with disposing of Britain's nuclear waste, will begin what is likely to be a very contentious public consultation on its plans for storing waste.