LONDON, July 6, 2010 (AFP) - Britain is working on crisis action in case energy giant BP is ruined by the costs of coping with its oil spill in the Gulf of Mexico, The Times reported on Tuesday without citing its sources.
The talks, with officials from the British government's Department for Business and the Treasury, show mounting concern that the company could collapse, the report said.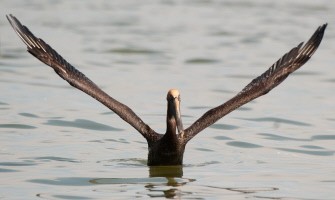 (FILES) In a file picture taken on June 15, 2010 a brown pelican covered with oil from the BP Deepwater Horizon oil spill, swims at Sandy Point in the Gulf of Mexico, near Venice, Louisiana. AFP
The Treasury and the Department for Business were unavailable for comment on the newspaper report.
"It is not clear how bad this will get, but the government needs to be prepared for any eventuality," said a person familiar with the talks cited by The Times.
The daily paper added that British Prime Minister David Cameron and Energy Secretary Chris Huhne would discuss BP's future with US government officials in a trip to Washington later this month on July 20.
An insider also told the newspaper that the question has been raised as to whether, under extreme circumstances, the government should intervene to save BP.
That would spark a rescue similar to the British banking sector bailouts at the height of the global financial crisis.
On Monday, BP revealed that its costs over the Gulf of Mexico oil spill have soared above three billion dollars for the first time.
The company has now spent about 3.12 billion dollars on the cost of the spill response, containment, relief well drilling, grants to the Gulf states, claims paid and federal costs.
The latest estimate was far higher than the 2.65 billion dollars given by the energy firm on Monday of the previous week.
BP's share price has collapsed more than 50 percent since the Deepwater Horizon oil rig it leased sank on April 22, two days after a blast that killed 11 workers.