LONDON, Aug 21, 2011 (AFP) - Former British prime minister Tony Blair weighed in Sunday on the debate over the causes of this month's riots, attacking current premier David Cameron's claims that the country's "moral decline" was to blame.
Two weeks after after an unprecedented frenzy of looting and violence broke out in English cities, Blair made a rare intervention into domestic politics to warn that a flawed analysis risked producing the wrong policy response.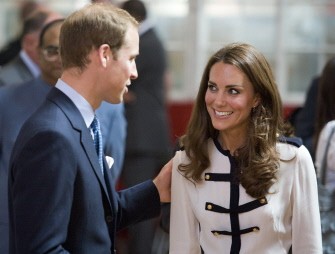 AFP - Britain's Catherine, the Duchess of Cambridge (R) talks her husband Prince William as they visit the Summerfield Community Centre, in Birmingham, central England, on August 19, 2011, following riots in the area last week.
"Britain, as a whole, is not in the grip of some general 'moral decline'," the former Labour leader wrote in the Observer newspaper.
He explained: "The big cause is the group of young, alienated, disaffected youth who are outside the social mainstream and who live in a culture at odds with any canons of proper behaviour."
Debate has raged in Britain over why so many people went on the rampage, from the left's claim that it was largely about deprivation, to assertions by Cameron and his Conservative party that a lack of responsibility in society was to blame.
Cameron last week vowed to confront a "slow-motion moral collapse" in parts of the country, saying his priority was mending the "broken society".
Writing in the Sunday Express, Cameron reiterated this, blaming the rioting on "a decline in responsibility, a rise in selfishness, a growing sense that individual rights come before anything else".
However Blair, who was prime minister from 1997 to 2007, insisted: "The key is to understand that they (the rioters) aren't symptomatic of society at large. Failure to get this leads to a completely muddle-headed analysis."
Cameron's tone has echoed a much-praised speech Blair made in 1993, when he was still leader of the opposition, following the horrific murder of toddler James Bulger by two 10-year-old boys in Liverpool, northwest England.
"I made a case in very similar terms to the one being heard today about moral breakdown in Britain," wrote Blair, who is now Middle East envoy for the diplomatic Quartet.
"I now believe that speech was good politics but bad policy. Focus on the specific problem and we can begin on a proper solution."
Debate about the causes of the riots is reflected in heated discussions about the punishment of those responsible.
The courts have been criticised for being too harsh, particularly in the case of two young men jailed for four years last week for calling for a riot on Facebook, even though it never happened.
But Cameron has backed tough justice for those involved, and a poll for the Sunday Times newspaper suggests the public are behind him.
Some 48 percent of those questioned in the YouGov survey said the sentences being handed down were "about right", and 31 percent said they were too soft.
Cameron has also said rioters should lose welfare benefits, and 68 percent of the public agreed. Although when asked if their families should face eviction from social housing, the largest proportion, 42 percent, disagreed.
Overall, Cameron's approval rating has hardly changed during the past month, according to a Independent on Sunday/Sunday Mirror poll by ComRes.
It found that 34 percent thought he was a good prime minister, up one point, while Labour leader Ed Miliband was down three points on 24 percent.
A total of 1,875 people have been arrested and 1,073 charged over the disorder in London, where the rioting began following the police shooting of a man in the deprived neighbourhood of Tottenham.
There have been 3,296 offences linked to the unrest in the capital, including 1,101 burglary offences, 399 concerning criminal damage to a motor vehicle, and 162 arson offences.
Hundreds more people have been arrested and charged over disorder in Manchester and Birmingham.