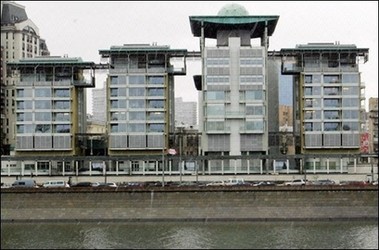 A building of the British embassy in Moscow, where the Scotland Yard investigators on Monday had found small traces of non-harmful radiation (AFP Photo)
British investigators in Moscow probing the murder of former Russian spy Alexander Litvinenko met a witness in the case amid signs of discord with Russian prosecutors in the inquiry.
"Investigators from the Russian prosecutor general's office and from Scotland Yard took testimony from Dmitry Kovtun," Andrei Romashov, Kovtun's lawyer, was quoted by Interfax news agency as saying.
Kovtun and a business associate, Andrei Lugovoi, who is also due to see British police and has hinted he may have leads for the inquiry, met Litvinenko in a London hotel on the day he fell ill.
The British team is reportedly interested in Lugovoi because planes on which he flew to and from London were found to be contaminated with radiation -- as were rooms in two London hotels where he stayed.
Romashov said Lugovoi could meet investigators on Thursday or Friday.
Meanwhile, Britain's Foreign Office said that British experts who arrived with the Scotland Yard investigators on Monday had found small traces of non-harmful radiation at the British embassy in Moscow.
Lugovoi visited the British embassy last month after an inquiry was opened into the poisoning of Litvinenko, a fierce Kremlin critic, with a radioactive substance.
Both Lugovoi and Kovtun have been undergoing radiation tests. Mario Scaramella, an Italian contact of the poisoned ex-spy, has tested positive for tiny amounts of the same substance, polonium-210, that killed Litvinenko.
A former KGB agent and presidential security guard, Lugovoi is now involved in the security business and heads up a drinks company in Moscow. He had business dealings with Litvinenko.
Lugovoi has rejected any suggestion that he was involved in Litvinenko's death and suggested that there was a plot to have him framed. He has, however, said he could aid the British police inquiry.
Also Wednesday, Russian prosecutors pointed to disagreements with their British colleagues in the inquiry after Prosecutor General Yury Chaika earlier laid out strict ground rules for their activities in Russia.
"Despite the fact that the request has certain inconsistencies with international standards... Russian and British experts have begun their investigation," the prosecutor general's office said in a statement.
Chaika stressed that British investigators do not have the right to question witnesses directly but can only attend interviews conducted by his officers. He also said that Russian suspects could not be extradited.
Litvinenko, a fierce critic of the Kremlin, died on November 23.
The Litvinenko case has strained relations between London and Moscow -- in part because he accused Russian President Vladimir Putin of ordering him poisoned in a letter published posthumously.
Kremlin officials have dismissed the allegations as "nonsense."
Litvinenko is to be buried in a Muslim ceremony in or near London on Friday.