Britain's Prince Andrew faced growing calls to quit as an unpaid trade ambassador over his ties with a convicted US sex offender and his hosting of the deposed Tunisian leader's son-in-law.
The prince's friendship with Jeffrey Epstein, a wealthy businessman jailed for soliciting underage prostitutes, led to accusations from one opposition politician that Andrew had become an "embarrassment".
David Cameron's spokesman said Queen Elizabeth II's second son had the prime minister's full support, but a government source admitted "there won't be many tears shed if he resigns".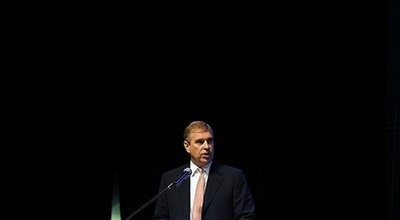 Prince Andrew faces growing calls to quit as an unpaid trade ambassador over his ties with a convicted US sex offender and his hosting of the deposed Tunisian leader's son-in-law
The prince's spokesman denounced "insinuations" in press reporting of the prince's relationship with Epstein, but the row is an unwelcome distraction for the royals just weeks before the wedding of his nephew, Prince William, and Kate Middleton on April 29.
Andrew's ex-wife Sarah Ferguson became embroiled in the row Monday after it emerged that Epstein gave her £15,000 ($24,000, 17,000 euros) at the prince's request to help pay off her reported multi-million-pound debts.
She told London's Evening Standard newspaper that the prince was a "first-rate father and first-rate man ... who does not know how to tell an untruth or behave dishonourably".
"I personally, on behalf of myself, deeply regret that Jeffrey Epstein became involved in any way with me," she said, adding that taking his money was a "gigantic error of judgment on my behalf".
Royal Navy commander Andrew, fourth in line to the throne, has been Britain's special representative for international trade and investment since 2001. His is unpaid but his expenses are met from the government coffers.
Cameron's spokesman said the prime minister had confidence in the prince and "thinks he is doing a good job".
"We are not reviewing that role in any way," he said. "We think he makes a valuable contribution, and so does British business."
Some reports suggested that as a top royal, Andrew, 51, would not be asked to resign but would merely see his role substantially downgraded.
But Chris Bryant, of the opposition Labour Party, said the prince should give up the position completely.
"I think we should be dispensing with his services. I think the charge list against him is so long now that he is a bit of an embarrassment," Bryant told the BBC.
The Telegraph newspaper also urged Andrew to quit, saying in Tuesday's editorial: "He should have the decency to withdraw gracefully from his ambassadorial post, for his best days as a UK trade envoy are assuredly behind him."
Business Secretary Vince Cable refuted suggestions that ministers would try to reduce the prince's remit.
"He is a volunteer, he has offered to perform these roles, and I think it is down to him essentially to judge the position he wants to be in," Cable said.
Andrew was reportedly a frequent guest at Epstein's home in Florida, and newspapers have published a photograph of him with his arm around 17-year-old Virginia Roberts, reportedly an erotic masseuse who worked for the tycoon.
There is no suggestion that Andrew himself has done anything wrong, and Alastair Watson, the prince's private secretary, condemned the speculation.
"The duke has known Mr. Epstein since being introduced to him in the early 1990s. The insinuations and innuendos that have been made in relation to the duke are without foundation," Watson said in a letter Saturday to The Times.
Meanwhile, Andrew also faces questions over his links to Sakher el-Materi, the son-in-law of the Tunisian president Zine El Abidine Ben Ali, who was deposed in January.
The Guardian revealed that he gave a lunch for Materi last year with British businessmen at Buckingham Palace, but a spokesman for the prince insisted it was a "legitimate public engagement".
Meanwhile, Andrew also faces questions over why the head of Kazakhstan's sovereign wealth fund believed that the prince was lobbying British investors on its behalf, The Times reported Tuesday.
Diplomatic cables released by the WikiLeaks website last year showed US officials were shocked by the "rude" prince's "astonishing display of candour" during a business trip to Kyrgyzstan.