British taxi-driver declared "there's going to be a rampage" just hours before launching a shooting spree that left 12 people dead, and then turning the gun on himself, reports said Thursday.
Derrick Bird, 52, also wounded 11 people, three of them critically, as he drove through the picturesque Lake District region of northwestern England taking pot shots at passers-by from the window of his car.
Police warned local residents and the many tourists who flock to the region to stay indoors for their own protection, but it was more than three hours before Bird's body was eventually found in wood near the village of Boot.
They believe he killed himself. Officers later recovered a shotgun and a .22 rifle fitted with a telescopic sight.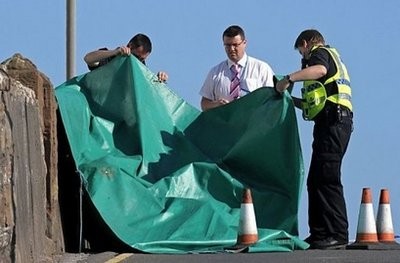 Police officers look a body at the scene of a shooting in Seascale, Cumbria
More than 100 policemen were working Thursday to retrace Bird's deadly journey through the rural communities here, to establish why a quiet man, described by neighbours as a "normal bloke", caused such devastation.
"We are not able to understand at this stage the real motivation behind it or establish whether this was a premeditated or a random attack," Deputy Chief Constable Stuart Hyde said in the coastal town of Whitehaven Wednesday.
He described it as "probably the blackest day in our community's history".
People who knew "Birdy", as the killer was widely known, described him as a quiet man who worked hard, lived alone but was quite popular. He was divorced, had two children and had recently become a grandfather.
However, reports suggested Bird might have planned the attacks the night before, when he got into an argument with other taxi drivers.
"Afterwards Derrick shook all their hands and said, 'There's going to be a rampage tomorrow'," one of his colleagues told The Sun newspaper.
The Times also reported an old friend of Bird's recalling that the killer had told him when they spoke late Tuesday: "I won't see you again."
The newspaper raised the possibility that the attacks were motivated by a feud over his mother's will, and reported that Bird's twin brother David and the family solicitor, Kevin J. Commons, were among the victims.
The shooting began in Whitehaven, where taxi driver Darren Rewcastle was among the dead, and continued to the village of Egremont, where local resident Gary Toomey recounted how he found a man bleeding on his doorstep.
"I saw a car screeching off and a man saying 'help me'. He was bleeding heavily from the side of his face," Toomey told local media.
"He said he dived out of the way of the shot, and the man in the car pointed the gun down and shot him again in the back from about six feet away as he lay on the floor."
Bird then headed into Seascale, where eyewitnesses said he took "pot shots" at people as he drove through.
Among the victims there were the elderly Jane Robinson, who died as she delivered catalogues door-to-door, and 64-year-old Michael Pike, who was shot as he rode his bicycle.
Seascale doctor Barrie Walker told of "blood flowing in the streets" as he attended to victims.
Prime Minister David Cameron said he was "alarmed and shocked" by the attacks, the worst in Britain since the shootings of 16 primary school children and their teacher in the Scottish town of Dunblane in 1996.
"When lives and communities are suddenly shattered in this way, our thoughts should be with all those caught up with these tragic events," Cameron told lawmakers in parliament.
Queen Elizabeth II said she was "deeply shocked" by the "appalling" events, offering her sympathy to the victims' families.
"I am sure I share in the grief and horror of the whole country," she said.
Britain has tight controls on gun ownership introduced after both the Dunblane massacre and a 1987 shooting in Hungerford, southern England, where 14 people died.
Registration is now mandatory for shotguns and firearms, which must be kept in secure storage. Handguns were banned in 1997, and semi-automatic and pump-action rifles are also outlawed.