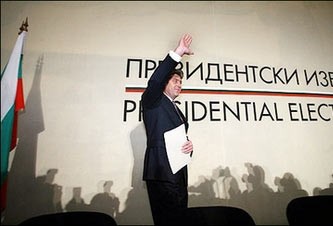 Bulgarian President Georgy Parvanov greets the people as he arrives for a news conference in Sofia
Bulgarian President Georgy Parvanov won re-election with an unassailable lead in his run-off battle against ultra-nationalist challenger Volen Siderov, the central electoral committee said based on partial results.
The electoral committee said a count of 98.11 percent of the ballots cast gave the 49-year-old incumbent 75.7 percent of the vote, while his rival scored 24.3 percent.
Turnout by 7:00 pm (1700 GMT) was 41.2 percent, it added.
"This is an unprecedented, historic result," Parvanov told a news conference late Sunday.
"The result is a recognition of the policies we followed during our first five-year term," he said, adding that he would continue to be a president with "a clear social engagement at home".
He also promised to continue what he called his "active" and "consistent" foreign policy.
"It will be oriented towards securing a dignified European Union membership, and at the same time maintaining our national identity and working in solidarity with our European partners."
Parvanov, a pro-European former leader of the Socialist Party who prided himself in being "the president of all Bulgarians," won the first ballot last weekend with a commanding lead of 64 percent against Siderov's 21.5 percent but failed to avert a run-off as voter participation was below 50 percent.
No minimum turnout was required in the second round.
Parvanov is the first Bulgarian president to be re-elected since the fall of communism in 1989, and is now all but certain to fulfill his dream of presiding over the official entry of his Balkan nation into the European Union on January 1.
Support for the youthful 49-year-old leader has surged since he first took office in 2001, making him Bulgaria's most popular and trusted politician.
Under his leadership, Bulgaria joined NATO in 2004 and earlier this year received the green light to join the EU in two months' time.
Parvanov also played a key role in the formation of the current Socialist-led government after inconclusive general elections in June last year and the ensuing political deadlock threatened to stall reforms and postpone EU accession.
Parvanov also supported the signing this year of an agreement to set up three US military facilities in Bulgaria.
At the same time, he has worked to thaw Bulgarian-Russian relations, which have deteriorated badly since the fall of Eastern European socialist system' collapse.