North Korea must do more if stalled six-party talks on ending its nuclear drive are to resume, a US envoy said Thursday as he wrapped up an Asia tour aimed at gauging if Pyongyang is ready to negotiate.
Stephen Bosworth, Washington's point man on North Korea, was in Beijing on Wednesday and Thursday for talks with Chinese Foreign Minister Yang Jiechi and Beijing's special Korea envoy Wu Dawei on how to revive the negotiations.
"We are convinced of the need to resume diplomatic activities and we will also continue the exchanges of views in the coming weeks and months," Bosworth told reporters.
"It is clear that the six-party process does not just depend on the five. It also depends on what we hear and see from the DPRK," he said, referring to North Korea by its official acronym.
"The burden is quite clearly on the DPRK."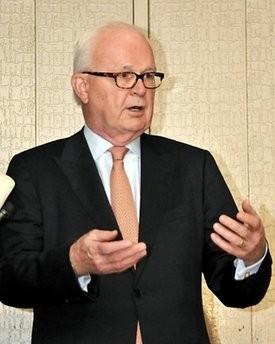 US special envoy on North Korea Stephen Bosworth speaks to the press in Tokyo. Bosworth is now in China for talks as part of a new diplomatic initiative on Pyongyang, a State Department spokesman said Wednesday
The so-called six-party talks involving North and South Korea, China, Japan, Russia and the United States had previously secured North Korean pledges to give up its nuclear programmes, but Pyongyang stormed out in April last year.
Bosworth visited Seoul and Tokyo this week before his final stop in Beijing. He was headed back to Washington from China, a US embassy spokesman told AFP.
His counterparts from China, Japan and South Korea each recently visited Washington for talks.
The March sinking of a South Korean naval vessel that left 46 sailors dead has remained a key obstacle to restarting the denuclearisation talks, with South Korea and the United States blaming the incident on North Korea.
Pyongyang has adamantly denied involvement.
Bosworth said Thursday there was "no indication" that the North was in any way ready to apologise for the incident.
He underscored the importance of Sino-US cooperation on the issue, and said Washington was pleased with the briefings it had received from the Chinese side on North Korean leader Kim Jong-Il's visit last month to China.
During that visit, Kim reportedly told Chinese President Hu Jintao that he was willing to return to the six-party talks, without offering any firm time commitment.
US President Barack Obama's administration has insisted on what it calls "strategic patience," saying it will not rush into talks and instead wants North Korea to make clear it abides by a 2005 deal to give up nuclear weapons.
US officials and analysts expect the United States will eventually sit down for formal talks with North Korea. But few foresee breakthroughs amid signs the nuclear-armed regime is in the throes of leadership succession.
North Korea has apparently delayed its most important political gathering in 30 years -- a meeting to elect the "highest leading body" of the Workers' Party of Korea, amid speculation the ailing Kim could anoint his son to succeed him.
Senior North Korean officials have told international agencies in Pyongyang that the delay was due to storm damage, Seoul's Yonhap news agency quoted a source as saying.