WASHINGTON (AFP) – US President Barack Obama called his Russian counterpart Dmitry Medvedev a "solid and reliable partner" as the leaders forged a warmer relationship over burgers and a stroll.
"We listen to one another and we speak candidly.... By any measure, we have made significant progress and achieved concrete results," Obama added.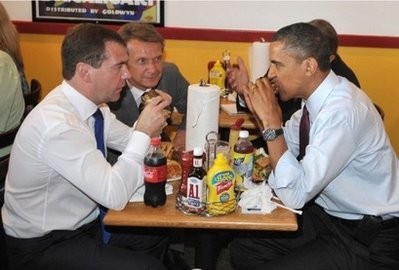 US President Barack Obama and Russian President Dmitry Medvedev eat burgers during a lunch at Ray's Hell Burger in Arlington, Virginia. AFP
After signing a landmark nuclear arms reduction treaty signed in April, each leader sought new economic frontiers, announcing a deal to resume US poultry exports to Russia after a row over health and safety standards.
That deal allowed Obama to say he would order US negotiators to accelerate a dialogue with Moscow on Russia's long desired entry into the World Trade Organization (WTO).
Obama, struggling to cut US jobless rolls, also said that Russia would buy 50 Boeing aircraft valued at four billion dollars that could create 44,000 American jobs, part of a broad array of major trade and investment deals.
Medvedev said the work he and Obama had done had made the world "safer" and, after arriving in Washington from high-tech Silicon Valley, said it was time to move on from geopolitical cooperation to the economic sphere.
"We are ready for that now; our American partners are ready for the same thing."
The imagery of the visit was carefully planned to suggest a relationship functioning both at a personal level, as well as diplomatically.
Obama and Medvedev left the White House after their talks to munch cheese burgers at the president's favorite fast food joint in Arlington, Virginia, "Ray's Hell-Burger."
Later, in a highly unusual move, the two presidents left the White House under the gaze of Secret Service sharpshooters on nearby roofs, and strolled to a Russia investment summit at the nearby US Chamber of Commerce.
Obama noted that Medvedev had visited the California headquarters of "Twitters," slightly mangling the name of the micro-blogging site at which he opened an account and sent his first tweets.
"I have one (an account) as well, so we may be able to finally throw away those red phones that have been sitting around for so long," Obama joked.
Obama noted how the United States and Russia had worked together to further disarmament, to open new transit routes to Afghanistan and to frame new nuclear sanctions against Iran in the United Nations Security Council.
The only sign of discord at the summit was an acknowledgement by Obama that the two sides were not on the same page on everything.
"Our two countries continue to disagree on certain issues, such as Georgia, and we addressed those differences candidly.
"But by moving forward in areas where we do agree, we have succeeded in resetting our relationship, which benefits regional and global security."
In that vein the two leaders issued a sheaf of statements, agreeing to work together on issues as diverse as rules for adoption, putting air marshals on US-Russia flights, and expressing concern at events in Kyrgyzstan.
Obama took office vowing to recalibrate relations with the Kremlin, after a tense period in the latter years of the Bush administration, which included tensions over Russia's war with Georgia.
However, some US critics of Obama say he may be relying too much on a personal relationship with Medvedev, and argue that the real power in Russia lies with Prime Minister Vladimir Putin.
They also cite what they say is a deteriorating human rights situation in Russia and question whether Moscow is merely cooperating with Washington in the short-term in a bid to enhance its long-term geopolitical interests.
The Russian leader said he wanted to learn the lessons from Silicon Valley, the birthplace of the high-tech revolution.
Medvedev's first "tweet" from his new Twitter account, @KremlinRussia, was a message in Russian that was translated into English as "Hello everyone, I am now on Twitter."
Besides Twitter, the Russian leader also paid a visit to the offices of technology star Apple and secured a commitment from US networking giant Cisco that it would invest one billion dollars in Russia.
One project Medvedev has singled out as a priority is the setting up of an innovation center in the Moscow suburb of Skolkovo, envisaging it as a Russian Silicon Valley.
After wrapping up his US visit, Medvedev is to take part in the Group of Eight and Group of 20 summits in Canada over the weekend.