Acting Premier Ehud Olmert, whose Kadima party won Israel's election last week, will be declared head of government at Sunday's cabinet meeting in a decision coming into effect on April 14, the top-selling Yediot Aharonot said.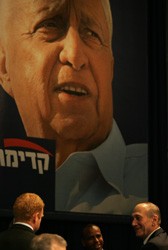 Israeli acting Prime Minister Ehud Olmert (R) smiles backdropped by a poster of ailing Prime Minister Ariel Sharon (AFP Photo)
April 14 will mark the end of the 100-day period required under the law for Sharon to be declared permanently incapacitated, provided he does not emerge from his coma which was induced after he suffered a massive stroke January 4.
The decision will be purely formal given that Olmert has already exercised all of Sharon's duties since becoming acting prime minister when his mentor collapsed.
Olmert is in any case set to be appointed by President Moshe Katsav to form the next coalition following consultations with other parliamentary parties and the publication Wednesday of the results of Israel's March 28 election.

Source: AFP