PHNOM PENH, Feb 16, 2009 (AFP) - Cambodia's UN-backed war crimes court on Monday busily readied for a deluge of around 1,000 people expected to attend its long-awaited first trial of a Khmer Rouge leader, a spokeswoman said.

The ultra-communist regime's prison chief Kaing Guek Eav -- better known as Duch -- will appear Tuesday for the initial hearing in his trial for crimes against humanity, war crimes, torture and premeditated murder.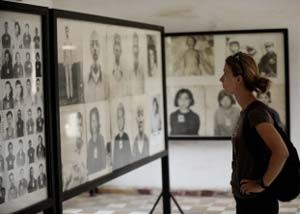 Visitors watch portraits of victims displayed in the infamous Tuol sleng Khmer Rouge prison, also known as S21, where thousands of Cambodian died during the brutal 1975-79 regime, on Feb. 16, 2009 in Phnom Penh (Photo: AFP)
"The court is an absolute hive of activity," tribunal spokeswoman Helen Jarvis said.
"It reaffirms to us the intense public interest in what's happening. We're well aware this is a historic day for Cambodia," she added.
Former maths teacher Duch, 66, is one of five Khmer Rouge leaders who have been detained by the court seeking justice for the 1975-1979 regime that killed up to two million people.
His first hearing is expected to last less than three days as it involves procedural matters to determine the structure of the trial, according to court officials.
Even though full testimony is not expected until March, the official start of the first Khmer Rouge trial was welcomed by Sim Ny, a street vendor in capital Phnom Penh.
"I am very happy to see the Khmer Rouge trials start now. This means justice is on the way to us," said the 49-year-old, who lost her brother to the regime while she was forced to work in a rice field.
"Thirty years have passed, but I am still wondering why the Khmer Rouge, which was Cambodian, killed millions of Cambodians," she added.
Duch was indicted last year for allegedly personally overseeing the torture and extermination of more than 12,000 men, women and children when he headed Phnom Penh's notorious Tuol Sleng prison, known as S-21.
The prison, once a high school, is now a genocide museum lined with haunting black and white pictures of many victims and displaying torture instruments.
Thousands of inmates were taken from Tuol Sleng during his tenure for execution just outside the capital at Choeung Ek, a former orchard now known as the Killing Fields.
Most adults were beaten to death with iron bars to save bullets, while children had their heads smashed against a tree.
Established in 2006 after nearly a decade of negotiations between Cambodia and the United Nations, the long-stalled war crimes tribunal is the last chance for Cambodians to find justice for the Khmer Rouge's crimes.
The Khmer Rouge, led by "Brother Number One" Pol Pot, emptied Cambodia's cities during its time in power, exiling millions to vast collective farms in a bid to take society back to "Year Zero" and forge a Marxist utopia.
The movement was ousted by Vietnamese-backed forces but continued to fight a civil war until 1998. Pol Pot died in the same year.
Duch has been detained since 1999 and was formally transferred to the tribunal in July 2007. He faces a maximum term of life imprisonment by the tribunal, which does not have the power to impose the death penalty.
The tribunal has however faced controversy over allegations of political interference by the government and claims that Cambodian staff paid kickbacks for their jobs.
The trials of the four other Khmer Rouge leaders are set to start later this year after Duch's trial is completed, although no date has yet been set.
Judges are now mulling whether to open cases against other former Khmer Rouge leaders after a dispute between the international and Cambodian co-prosecutors over whether to pursue more suspects.