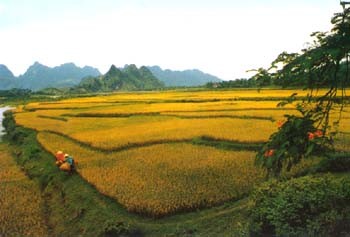 A rice field in Viet Nam. Four nations along the Mekong River export at least 10 million tons of rice each year
Cambodia's outspoken Prime Minister Hun Sen Wednesday called on rice exporting nations along the Mekong River to join hands and counter the Organization of the Petroleum Exporting Countries (OPEC).
"The countries along the Mekong River should form an association of rice exporters (like OPEC) because OPEC has oil, but they do not have rice," Hun Sen said in a televised speech.
"Then, we can bargain with them. If they want cheaper rice, then they should drop oil prices too," the premier said, adding he had called on Laos, Myanmar, Thailand and Vietnam to set up an OPEC-like rice exporters association.
Cambodia and the four nations along the Mekong River export at least 10 million tons of rice each year, Hun Sen said.

Source: AFP