HANOI, July 23, 2010 (AFP) - Canada is encouraged by Afghanistan's progress towards self-reliance despite criticisms that Western nations are too eager to pull their forces from an unpopular war, Ottawa's foreign minister says.
"I've just gotten back from Kabul where, indeed, I am encouraged by the way the transition is going," Lawrence Cannon told AFP in an interview on the sidelines of the ASEAN Regional Forum (ARF), Asia's biggest security dialogue.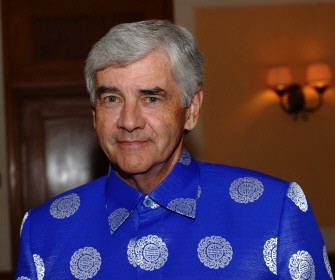 In a picture taken on July 22, 2010 Canadian Foreign Minister Lawrence Cannon is pictured during an interview with AFP. AFP photo
Under a motion passed by Canadian legislators, Canada's more than 2,800 troops in Afghanistan are scheduled to return home next year.
Other Western nations are also planning to withdraw from the war against the Islamist Taliban, sparking criticism that Afghanistan will not have time to properly build its own army and police.
A conference in Kabul on Tuesday drew representatives from around 80 countries and organisations which endorsed a proposal by President Hamid Karzai that Afghan forces take over responsibility for national security by 2014.
"The benchmarks have been put out there, so that once this transition period is finished Afghanistan will have the capability to provide for its own protection and security", Cannon said.
The conference also endorsed the Afghan government's plan to forge peace to end nine years of war, and to take greater control of aid projects.
The minister said Canada helped bring Afghanistan and its neighbour Pakistan together for dialogue aimed at improving their border management on issues including drug trafficking.
Along with Canada and the US, Pakistan is a member of the ARF whose ministers held talks in Vietnam on Friday.
Canada has also played a significant role in an initiative trying to improve infrastructure on the impoverished border with Pakistan, Cannon added.
"Those are all things that reassure me", he said.
The death of a Canadian soldier in Afghanistan on Tuesday brought to 151 the number of Canadians killed there since Ottawa deployed troops to NATO's International Security Assistance Force (ISAF) in 2002.
Cannon said Canadian legislators have set a firm deadline for the pullout of Canadian soldiers, who operate in volatile Kandahar province.
"Post-2011 we will be continuing with development and aid as well as our diplomatic relations," he said.
Britain's Prime Minister David Cameron on Wednesday said his country could start withdrawing troops from Afghanistan next year. Britain has the second-largest troop contingent after the United States.
US President Barack Obama has set a deadline of July 2011 as the start of a gradual drawdown of American troops, while Dutch soldiers are set to start leaving next month.
Cannon said the ISAF withdrawal and Afghan security takeover will be done "hamlet by hamlet, city by city, town by town", and backed by changes in the government structure.