A major snowstorm tore through eastern Canada and northeastern United States Sunday killing at least one person, making driving conditions treacherous and forcing airports to cancel numerous flights.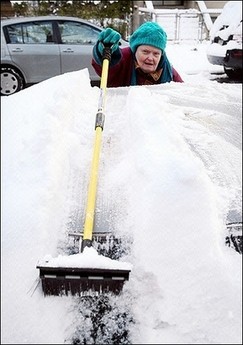 A woman cleans snow from her car in Chicago, Illinois (Photo: AFP)
Southern Ontario and Quebec provinces took the brunt of the bad weather, with Toronto, Ottawa and Montreal struggling under 40 centimeters (16 inches) of snow, as the storm continued unabated late Sunday.

Environment Canada warned that "a crippling major winter storm with heavy snow and blowing snow as well as some ice pellets is moving in ... dangerous winter weather conditions are imminent or occurring" in the affected regions.

It told the public to expect delays and disruptions in air and rail services, as the storm tracked northward toward New Brunswick.

In Toronto, the snowstorm caused some 600 traffic accidents on Sunday morning alone, the provincial police reported.

A woman was killed by a snowplow on a roadside in London, Ontario, police said.

Around 100 flights were cancelled at Toronto-Pearson and Montreal-Trudeau airports.

Air Canada recommended its customers check the status of their flights before leaving for the airport, and Rail Canada issued a statement advising the public it was prepared to handle "the increased demand for train tickets."

"It's a big one, a dangerous one," Environment Canada climatologist Dave Phillips told CTV Newsnet on Sunday.

"Just because you have this one storm doesn't mean we're into the winter from hell, but my gosh, it's certainly started that way," he added.

The same winter storm front also hammered the Great Lakes and northeastern regions of the United States, with winter storm warnings extending from Michigan and Indiana to Maine, the US Weather Channel reported.

A blizzard warning has been issued for southeastern Michigan, north of Detroit, the channel added.