BEIJING, June 16, 2011 (AFP) - Mexico's candidate to lead the IMF met senior officials in China on Thursday to try to win Beijing's support in what he himself has called an "uphill battle" to defeat Christine Lagarde.
Agustin Carstens, the governor of Mexico's central bank, arrived in Beijing in the afternoon and immediately went into talks with Chinese counterpart Zhou Xiaochuan and Finance Minister Xie Xuren, a Mexican embassy spokesman told AFP.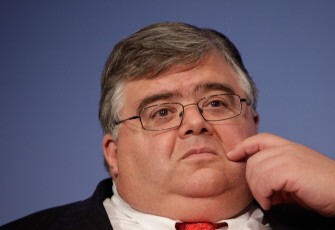 AFP file - Agustin Carstens
Carstens was to give a press conference at 6:30 pm (1030 GMT).
The 53-year-old economist is the underdog in the race to succeed Dominique Strauss-Kahn as the managing director of the International Monetary Fund. Strauss-Kahn resigned last month to face sexual assault charges in New York.
His campaign to win support from major emerging nations has faltered in the face of Lagarde's aggressive worldwide charm offensive, so his visit to China, the world's second-largest economy, will be seen as crucial to his bid.
Carstens, who served as the IMF's number three from 2003-2006 before returning to Mexico City to become finance minister and then central bank chief, admitted earlier this week that beating Lagarde would be difficult.
"I know that it's an uphill battle," Carstens told CNBC television.
"It's like starting a baseball game with a score of 5-0 without a single pitch having been pitched, because you know the Europeans haven't embraced the spirit of the process."
Europe has maintained a 65-year lock on the top job at the Washington-based lender according to an unwritten agreement, but emerging nations such as China and India have questioned the tradition, calling it outdated.
Lagarde, France's finance minister, and Carstens were placed on the shortlist earlier this week by the IMF's 24-member board, which is expected to make a decision by June 30 after interviewing candidates.
"I don't have anything against Christine. She's a very dear friend and I admire her as a minister... I also think I'm a strong candidate. So at least I will make them think twice," Carstens said.
He has suggested that Lagarde could be too deeply involved in Europe's fiscal problems to be the unbiased, unsentimental leader the IMF requires.
"There could be a conflict of interest," Carstens said this week at the Peterson Institute for International Economics in Washington.
"We'd have a situation where the borrowers dominate a creditor institution. I think that's an issue we should consider."
The 55-year-old Lagarde, in addition to having Europe's support, has received public endorsements from Egypt, Indonesia and a number of African countries.
Carstens has only garnered the expressed support of a dozen Latin American countries -- but notably not yet Brazil or Argentina.
He met US Treasury Secretary Timothy Geithner in Washington on Monday, and although a Treasury spokeswoman lauded Carstens' "strong mix of financial talent and political skills", the United States remained mum on its choice.
China, Russia and India -- members of the BRICS bloc of emerging economies along with Brazil and South Africa -- have also not yet endorsed a candidate.
When Lagarde visited Beijing last week, Foreign Minister Yang Jiechi said after meeting her that the race to lead the IMF was "open", but the Frenchwoman later told AFP she had a "very positive feeling" after her talks in Beijing.