HONG KONG, March 9, 2011 (AFP) - Cathay Pacific said Wednesday that it would buy or lease 27 planes from Airbus and Boeing in a deal worth as much as $6.55 billion, as the carrier reported a record profit for 2010.
The Hong Kong airline said it had struck a deal with European aircraft maker Airbus to buy 15 A330-300s and a separate agreement with US-based Boeing for 10 777-300ERs.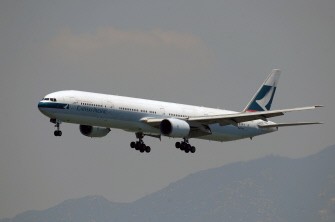 AFP file - In a file picture taken on August 4, 2010 a Cathay Pacific aircraft prepares to land at Hong Kong international airport.
The deal also included leasing two more Airbus A350-900s from International Lease Finance Corporation, Cathay said, adding that all the models would be delivered before the end of 2015.
The total list price for the 27 planes was HK$51 billion ($6.55 billion) although they would "be acquired at a considerable discount, as is the usual practice in such transactions," Cathay said.
Cathay also said it booked a net profit of HK$14.05 billion ($1.80 billion) in 2010, nearly triple the 2009 result of $4.69 billion. Year-on-year revenue increased by 33.7 percent to HK$89.52 billion, it added.
The carrier and its regional unit Dragonair carried 26.8 million passengers in 2010, a 9.1 percent increase, it said.
Cargo revenue soared 50.1 percent to HK$25.9 billion last year, Cathay said, adding that the amount of freight carried by the airline and Dragonair totalled 1.8 million tonnes, an 18.1 percent year-on-year increase.
Cathay's latest financial results marked a major turnaround from 2008 when the carrier reported a record HK$8.69 billion loss as the global economic downturn hammered the airline industry, before the return to profit in 2009.
The carrier's shares were trading 3.86 percent higher at HK$18.82 during the afternoon session.
"The Group's business began to recover from the global economic downturn in the latter part of 2009... the momentum was sustained throughout 2010," Cathay said in a statement.
"The improved business conditions helped us to rebuild our balance sheet," it added.
But the carrier also warned that prices for fuel, typically an airline's single biggest cost, were 28 percent higher in 2010 from the previous year.
"Our results would be adversely affected, and very quickly so, by a return to recessionary economic conditions," Cathay Chairman Christopher Pratt said in a statement.
"Demand is at present expected to remain strong in 2011, but this expectation could be undermined if the current (or any higher) level of oil prices were to reduce global economic activity," he added.
The plane orders announced Wednesday come after Cathay booked its biggest-ever single purchase in September last year, buying 30 Airbus long-range A350 aircraft for a $7.82 billion list price.
Cathay said it now has a total of 91 new aircraft on order for delivery between now and 2019, with a total list price of about HK$185 billion.
"The latest order will enable the airline to replace older, less fuel-efficient aircraft as they are progressively retired from the fleet and... continue with the expansion of its passenger network," Cathay said.
On Tuesday, Boeing said Cathay rival Hong Kong Airlines, which currently has just 18 aircraft servicing routes to Asia and to Russia, had placed a preliminary order for 38 planes worth up to $8.5 billion at list prices.