BANGKOK, Feb 5, 2011 (AFP) - Thailand and Cambodia on Saturday agreed a ceasefire to halt fighting near a disputed temple that left at least five people dead, but border tensions remained high.
Military officials from the two countries confirmed the ceasefire but a Cambodian general told reporters after the negotiations that the "situation right now is still tense".
Cambodia had earlier called fighting near the 11th-century Preah Vihear temple "explosive", while Thailand branded it a violation of territory as both sides blamed the other for sparking the worst violence in more than two years.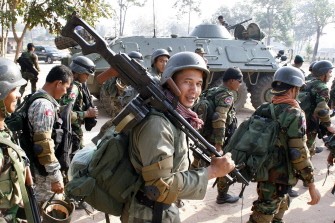 Cambodian soldiers walk at a military base as they prepare to go to Preah Vihear temple in Preah Vihear province on February 6, 2011. AFP
The neighbours traded heavy weapons fire in an area around the Hindu temple, which is claimed by both countries, on Friday and each said the other had used mortars, rockets and artillery.
Cambodia has said two of its soldiers and one civilian were killed in Friday's fighting, while Thailand said a villager on its side of the border also died.
A Thai soldier was killed in a brief resumption of hostilities on Saturday morning and both sides have reported injured troops.
Reports from the border suggested four captured Thai soldiers were returned following the ceasefire talks.
Thousands of people fled the border area on Friday as villages were evacuated on both sides after fighting between the neighbours erupted for the first time in more than a year when simmering border tensions boiled over.
Television footage showed smoke plumes rising near Preah Vihear, which according to Cambodia suffered "serious" damage in the fighting.
Ties between the neighbours have been strained since the temple was granted UN World Heritage status in July 2008.
The World Court ruled in 1962 that Preah Vihear itself belonged to Cambodia, although its main entrance lies in Thailand and the 4.6-square-kilometre (1.8-square-mile) area around the temple is claimed by both sides.
Thailand and Cambodia have been talking tough on the border issue, which some observers say serves nationalist goals at home on both sides.
Around 5,000 of Thailand's influential nationalist "Yellow Shirts" gathered outside the government compound in Bangkok on Saturday, police said, as the movement attempted to increase pressure over the row.
The Yellow Shirts are a force to be reckoned with in Thailand's colour-coded politics. They used to be closely linked to Thai Prime Minister Abhisit Vejjajiva but relations have since soured.
At the demonstration, leaders called for Abhisit's resignation as the crowd repeatedly chanted "Get Out!".
One protest leader, Chamlong Srimuang, earlier branded the country's leader a "coward" who had "surrendered" to Cambodia.
Michael Montesano, of the Institute of Southeast Asia Studies in Singapore, said: "A very small group of Yellow Shirts are determined to keep tensions with Cambodia on the boil."
Sombo Manara, a history professor at the Royal University of Phnom Penh, said the Thai government would use the latest fighting "to show that they are also nationalists" in the hope of getting the Yellows "to calm down".
After convening an urgent security meeting on Saturday, Abhisit insisted the clashes had violated Thai sovereignty and said the government "fully and continuously supports yesterday's military operation".
Cambodian Foreign Minister Hor Namhong complained to the United Nations about the "explosive situation at the border".
Blaming the fighting on "flagrant aggression" by Thai troops, he said "Cambodian troops had no option but to retaliate in self-defence", in a letter to the UN Security Council. He did not explicitly call for UN intervention.
The United States has urged both sides to exercise "maximum restraint".
Tensions have flared in recent weeks in the wake of the arrest of seven Thai nationals for illegal entry into Cambodia in late December.
Two of them were sentenced to lengthy jail terms for spying, in a case that has caused outrage among the Yellows.