CARACAS, Feb 16, 2009 (AFP) - A triumphant President Hugo Chavez celebrated victory in a referendum to scrap electoral term limits Sunday that opened the way for the leftist leader to seek a third term in office in 2012.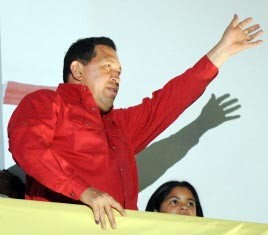 Venezuela's President Hugo Chavez celebrates his victory from the balcony of the Presidencial Palace in a referendum on constitutional changes Feb. 15 (Photo: AFP)
"Truth against lies (and) the dignity of the homeland have triumphed," Chavez boomed from the balcony of his Miraflores palace to cheering supporters, shortly after the results were announced.
"The doors of the future are wide open," Chavez told the crowd shouting "victory, victory, popular victory!"
Chavez -- popular with the country's poor for his oil-funded health care and education programs, and blamed by a vocal opposition for rising crime, corruption and inflation -- recently celebrated 10 years in power.
Fireworks lit the Caracas sky immediately after the announcement, and Chavez party members celebrated in the streets.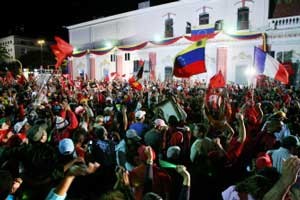 Supporters of Venezuela's President Hugo Chavez (not framed) celebrate his victory from the balcony of the Presidencial palace in a referendum Feb. 15 (Photo: AFP)
Chavez won 54.36 percent of preliminary results, according to National Electoral Council President Tibisay Lucena.
The opposition won 45.63 percent of the vote, which saw the participation of over 11 million people out of some 17 million eligible voters, Lucena said.
"We'd like to congratulate all the people of Venezuela for the civic and democratic behavior they demonstrated today. It was an extraordinary day," Lucena added.
From Buenos Aires to Havana and beyond, many were watching the vote on the future of the fierce anti-liberal US foe.
Chavez said he received a first message of congratulations from his mentor, Cuban revolutionary icon and former president Fidel Castro.
"Dear Hugo, congratulations for you and for your people for a victory that, by its size, is impossible to measure," Castro wrote, according to Chavez.
"This victory is also yours, Fidel, of the Cuban people and of the people of Latin America," responded Chavez, a leader of leftists in the region.
The victory strengthens Chavez's mandate and could prompt him to expand his socialist drive, which has included nationalizations and greater state control over the economy in recent years.
But it also comes amid warnings that his social programs could be hard hit by tumbling oil prices.
"I think that the greatest challenge the government now faces is governing in the face of crisis and not falling into triumphalism," Venezuelan analyst Miguel Tinker Salas of Pomona College, California, told AFP.
During their campaign, opposition leaders focused on the importance of peaceful power shifts to the health of Venezuela's democracy. They accused Chavez of abusing state resources to fund a massive "Yes" campaign.
Venezuelans voted on an amendment to five articles of the constitution that would grant the president, mayors, local councilors, lawmakers and governors unlimited bids for re-election.
The president was previously allowed two consecutive terms, which would have forced Chavez, elected in 1998 and again in 2006, to step down at the end of his second mandate in 2013.
The proposed amendment was Chavez's second bid to extend presidential term limits after a package of sweeping constitutional changes, including an end to term limits, was struck down by voters in December 2007.
Venezuela expelled European Parliament deputy Luis Herrero late Friday after he called Chavez a "dictator" and criticized the electoral council.
Around 100 international observers monitored Sunday's vote, but neither the Organization of American States (OAS) nor the European Union have official observers in Venezuela.