President Hugo Chavez said Thursday he will not to tolerate the presence of Colombian guerrillas in Venezuelan territory, adding that he's confident Colombia's government would in turn capture any opponents conspiring against his government.
"We are not going to allow the presence of any armed group," including rebels, paramilitary fighters and drug traffickers in Venezuelan territory, Chavez said before meeting with former Brazilian President Luiz Inacio Lula da Silva. "We have fulfilled our obligations."
The socialist leader's comments came a day after Colombian President Juan Manuel Santos announced that a top commander of the Revolutionary Armed Forces of Colombia, or FARC, was captured across the border in Venezuela.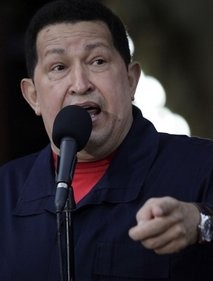 Venezuela's President Hugo Chavez
Venezuelan security forces captured Guillermo Torres, better known by his alias "Julian Conrado," and later contacted Colombian authorities after identifying the rebel leader, Chavez said. Venezuela announced in a statement that Torres would soon be extradited to Colombia.
Venezuela has for years been a refuge for Colombia's leftist guerrillas. But Chavez and Santos have forged a pragmatic friendship despite their deep ideological differences and promised to work together to prevent FARC rebels from seeking refuge in Venezuela.
Chavez suggested the arrest of Torres indicates that collaboration between the South American neighbors is producing positive results, and he said he expects the cooperation to continue.
Torres is the most senior FARC commander captured since 2004. He is on the FARC's general staff, No. 2 in the command chain after the rebels' seven-member secretariat, and is also renowned for composing and performing rebel anthems during failed 1999-2002 peace dialogues.
The United States had offered a $2.5 million reward for the FARC leader's capture.
In April, Chavez deported to Colombia an alleged top FARC guerrilla, Joaquin Perez, who was described by Santos as the rebels' most important operative in Europe. Santos had tipped off Chavez to Perez's arrival in Venezuela from Germany.
Chavez expressed confidence that Santos would prevent enemies of Venezuela's government from hatching plots within Colombian territory aimed at forcing his ouster. "I'm sure that they will not allow conspiracies against Venezuela in Colombian territory," he said.