China has approved a plan to build large passenger aircraft to compete with Boeing and Airbus, who together currently dominate the market here.
The decision was made at a meeting of the Cabinet presided over by Premier Wen Jiabao after listening to details of a feasibility study on the project, the State Council said in a statement posted on the government's website.
The plan is to "design and build airplanes that can carry more than 150 passengers and compete with Airbus and Boeing," the state-run China Daily said in a report.
The newspaper characterised the move as "a major strategic decision" and said the project will begin "as soon as possible."
In the statement, the Cabinet also said it has approved a plan to set up a company to manufacture large aircraft.
China has the technical and material capabilities to develop large aircraft, having been building its aviation industry for 50 years, the statement said.
China's experience has so far been limited to manufacturing smaller, regional aircraft, with the ARJ-21, holding up to 105 seats, expected to begin delivery in 2009, according to state media.
The Cabinet meeting was held on February 26. It did not explain why it took three weeks to announce the decision to the public.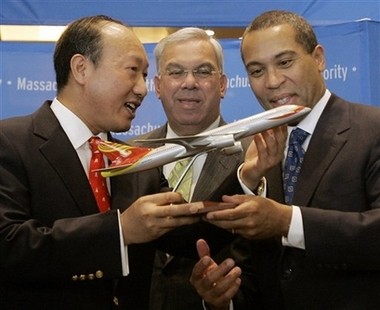 Chen Feng, chairman of Hainan Group, left, shows an airplane model of Grand China Air to Boston Mayor Thomas Menino, center.
There have been previous indications in public statements and media reports that China had ambitions in the market for large passenger aircraft.
China Aviation Corp I, a major aerospace company, said earlier this month it was looking to develop a new generation of aircraft engines to reduce its reliance on foreign manufacturers.
"As a country with a huge demand for large-sized planes, it is absolutely unimaginable to rely on imports of aero-engines for long," Liu Daxiang, the company's deputy chief of science and technology, told the China Daily.
China's new-generation engines must be more powerful than those in use in current Airbus or Boeing aircraft, Liu said.
According to the latest market outlook from China Aviation Corp I, China will need 2,230 large aircraft by 2025.
This forecast comes on the back of impressive growth rates in civil aviation in China, fueled by an economy that expanded by 10.7 percent last year.
Some 160 million passengers flew on Chinese airlines during 2006, a rise of 15 percent on the previous year, according to previously released local aviation statistics.