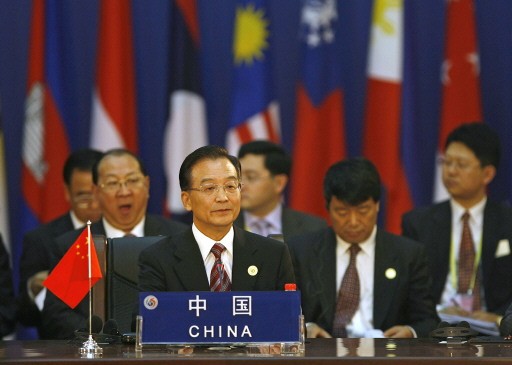 Chinese Premier Wen Jiabao (C) speaks at the opening of ASEAN summit at the Liyuan Resort in the southern Chinese city of Nanning, Oct. 30, 2006 (Photo: AFP)
Chinese and Southeast Asian leaders began a summit here Monday to deepen relations centred around the creation of a giant free trade zone by 2010, but also to discuss regional concerns.
Chinese Premier Wen Jiabao greeted the 10 leaders of the Association of Southeast Asian Nations before the opening ceremony for the China-ASEAN Commemorative Summit, which celebrates 15 years of dialogue relations.
China has been making efforts to emphasise its warming relationship with resource-rich ASEAN, downplaying the competitive threat from its economic might and forging efforts to boost development in Southeast Asia.
"During the past 15 years, China and ASEAN have together gone through the experience of eliminating suspicions and developing dialogue, as well as promoting mutual trust," said summit co-chair Wen at the opening.
"China and ASEAN relations are at their historical best."
Philippine President Gloria Arroyo, the other co-chair for the summit, hailed the meeting as a milestone for ASEAN and said relations "have never been better."
"This is an important state of affairs that can only help the region and the world," said Arroyo, whose country is the currently chair of ASEAN.
Aside from developing closer economic and political ties, officials said leaders would discuss at the one-day summit regional concerns such as the Democratic People's Republic of Korea's nuclear crisis.
"In the light of recent events in DPRK, regional peace and security has never been more important," said Arroyo.
Chinese and Southeast Asian leaders will underline their commitment to creating a giant free trade zone by 2010 at the summit