"The decision... lacks the support of facts and legal basis and breaches fair trade principles," Chinese Ministry of Commerce spokesman Chong Quan said in a statement of Thursday's announcement by the European Commission.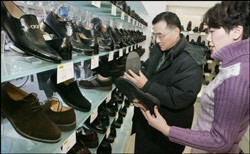 Customers look at Chinese-made shoes at a store in Shanghai (AFP Photo)
"Chinese shoe export products have not constituted dumping, and have not caused actual damage to the European Union's manufacturing trade."
Chong described the European Commission's decision as "obviously discriminatory".
EU Trade Commissioner Peter Mandelson said Thursday the duties would be imposed on Chinese and Vietnamese leather shoes from April 7 because the governments and manufacturers there had been engaged in unfair trade practices.
China's shoe making industry, the biggest in the world, also expressed anger and said they would hire European lawyers to argue their case with the European Union.
"I feel really angry because the excuses the EU gave are ridiculous," said Wu Zhenchang, a Chinese industry leader who helped set up a coalition of shoe makers to address the Europeans' concerns.
The Chinese shoe makers' coalition has set up a three million yuan (US$375,000) fund to appeal the decision.
"When we collect enough evidence we will propose the plea, probably at the beginning of April," said Wu, chairman of Chuangxin Footwear in southern China's Guangdong province, where around half of the nation's shoe exports are made.
China's state-run news agency said on Friday that Europe's decision would have a major impact on the local shoe making industry, with profit margins already extremely slim.
Chinese footwear exporters earn a profit of between five and 15 percent on shoes sold to the European Union, Xinhua said, citing the China Chamber of Commerce for Import and Export of Light Industrial Products.
However it said ordinary Europeans would also be big losers because they would have to pay an extra four to six euros (4.8 to 7.20 dollars) for a pair of leather shoes, while supply to Europe could dry up.
Chinese leather shoes exports to the EU totalled 288 million dollars in value in 2004, according to Chinese statistics, and 730 million dollars based on EU calculations, commerce ministry officials said in a briefing this month.
The shoe developments follows a similar dispute between Europe and China last year over a wave of cheap clothing imports that severely tested relations.
The two sides put the dispute behind them only after much tough bargaining. Europe imposed new limits, but they were quickly met and then had to be renegotiated.
Source: AFP