China's parliament wrapped up its annual session on Friday with a pledge to press on with the historic opening up of the nation's economy but without major reforms to the communist political system.
An overwhelming majority of the nearly 3,000 members of China's National People's Congress approved the nation's budget and economic agenda that will seek to maintain the country's extraordinary development of the past two decades.
"As to the question of whether China can maintain its current growth momentum of steady and fast economic growth, I think the conditions are there," Wen told reporters in his traditional post-parliament press conference.
However Wen made clear in his annual work report, which received the endorsement of 99.1 percent of lawmakers, that the growth model needed refining to better protect the environment and those less well-off in society.
"We should... avoid seeking only faster growth and competing for faster growth," Wen said when he delivered the report on the opening of the 12-day parliamentary session.
Among measures approved in the budget to rebalance the economy was an 86.8-percent rise in spending on health care in 2007 to 31 billion yuan (four billion dollars).
Education spending will increase 41.7 percent this year to 85.8 billion yuan.
The work report also set an economic growth target of "about eight percent," down from 10.7 percent recorded in 2006.
Among the other major budget initiatives approved, and one that created concern in the United States and elsewhere overseas, was a 17.8-percent rise in military spending to about 45 billion dollars.
One of two landmark pieces of legislation passed on Friday was on corporate income tax, which ended special benefits for foreign firms and unified the rate for local and non-Chinese companies at 25 percent.
The other law that was passed gave unprecedented protection to the private sector, a particularly controversial piece of legislation that took 13 years of amendments and debate to be approved.
Old-school Marxists, who consider the law a sell-out pushing China dangerously close towards the capitalist camp, were its most fierce opponents.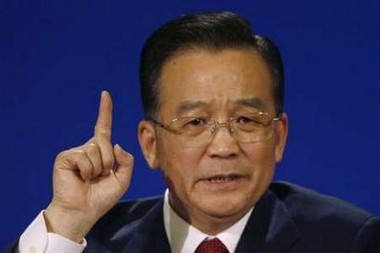 Chinese Premier Wen Jiabao
However once the Chinese leadership decided the law was finally ready to be passed, 96.9 percent of lawmakers voted in favour of it, which is consistent with the parliament's reputation as a rubber stamp body.
Addressing reporters afterwards, Wen made it clear that China would continue to march towards its own form of socialist-inspired democracy.
"Democracy, rule by law, freedom, human rights, equality and fraternity do not belong solely to capitalism," Wen said.
"These are the results of a world historic process that mankind has gone through together and they are the common values that are aspired to by all humanity."
But Wen cautioned not to expect quick results
"For our socialism to go from being immature to mature, unperfected to perfected and undeveloped to developed, will take a very long time," he said.
Wen said curbing corruption was one area that did need be addressed quickly, admitting the problem was worsening mainly due to power being too concentrated with the ruling elite.
"Corruption has become more serious, sometimes involving high-ranking officials in this country," Wen said.
"There are many reasons behind corruption but the most important is the overconcentration of power without effective and proper restraint and oversight."
Wen did not announce any specifics that could address these problems.