China on Thursday rejected US criticisms of its rights record and issued its own annual report pointing out US human rights failings both at home and on foreign soil.
"As in previous years, the US State Department pointed the finger at human rights conditions in more than 190 countries and regions, including China, but avoided touching on the human rights situation in the United States," said the report released by the State Council, China's cabinet.
It cited massive civilian deaths and other casualties in the Iraq conflict, abuse of Iraqi prisoners and other violations of the Geneva Conventions, and the 2005 killings of 24 Iraqi civilians by US troops at Haditha in Iraq.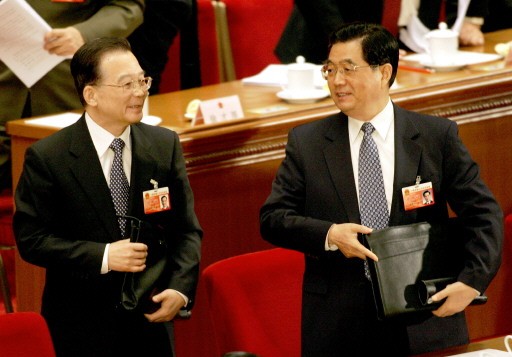 Chinese President Hu Jintao (R) chats with Premier Wen Jiabao (L) during the annual National People's Congress (NPC)
China pointed out nagging US problems with crime, gun control, and infringements on the civil rights of American citizens, including increased surveillance of private communications in the name of the war on terror.
It also questioned Washington's championing of democracy, saying the US system was fuelled by money and allowed the poorest and most vulnerable members of society to slip through the cracks.
China began issuing the report several years ago in retaliation for the annual US assessment of the international human rights situation, which routinely singles out China as one of the world's worst violators.
The State Department's 2007 report, issued on Tuesday, accused China of stepping up the harassment and detention of journalists, writers, activists and defence lawyers, and tightening restrictions on freedom of speech, especially on the Internet.