China has begun allowing banks to sell loans to each other, in a move designed to reduce financial risks and help banks meet stricter capital requirements, the central bank said Saturday.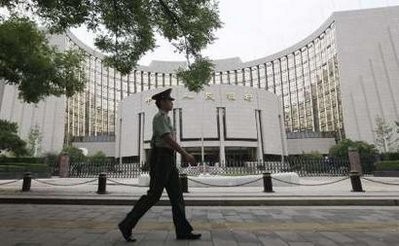 The headquarters of the People's Bank of China, the central bank, in Beijing.
The interbank loan transfer system launched in Shanghai will also help improve monetary policy transmission and strengthen control in the financial sector, People's Bank of China Governor Zhou Xiaochuan said in a statement.
The system launched amid growing concerns among policymakers about the potential for an explosion of bad debts in the banking sector, after new loans nearly doubled to 9.6 trillion yuan (1.4 trillion dollars) in 2009.
Beijing has clamped down on bank lending this year, raising the amount of capital that banks must keep in reserve -- effectively limiting the money they can lend -- and restricting lending to government financing vehicles.
State media said in July that 23 percent of the 7.66 trillion yuan extended to local government financing units was in danger of turning sour.
Chinese banks lent huge amounts to provincial financing vehicles for construction projects last year after Beijing called for nationwide efforts to spur the economy.
Local governments are barred by law from borrowing directly from banks.