The death toll from a horrific mining accident in north China's Shanxi province has risen to 105, following the discovery of another body, the government said Sunday.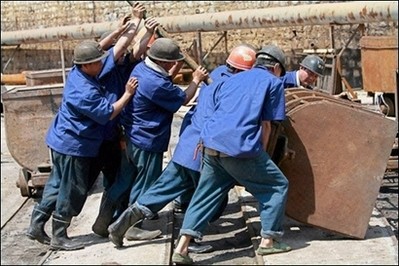 Chinese miners help with the rescue operation in the flooded Zhangzhuang mine in eastern Shandong province (Photo: AFP)
The last body was found on Saturday, almost three days after the Wednesday night gas explosion at the mine in Hongtong county, the State Administration of Work Safety said in a statement on its website.
It said that 128 people had been working in the mine at the time of the accident, and that 90 of these had died, while 38 has escaped.
The 15 other fatalities were from a group of 37 workers who entered the mine after the explosion in search for survivors, it said.
Local media reported earlier that at least 50 of those killed had been rescue workers.
Official media have blamed the explosion on the mine's bosses, saying they were mining in an unauthorized area of the site to extract more coal than their license allowed.
Government mine-safety bureau spokeswoman An Yuanjie told AFP earlier that management compounded the tragedy by failing to report the accident for more than five hours while sending in their own unqualified teams.
In the aftermath of the disaster, police detained 33 people and formally arrested two, according to the work safety administration.