The death toll from China's latest major coal mine disaster rose to 105 on Friday, official media said, as hope for survivors ebbed and anger mounted over a litany of mistakes that compounded the tragedy.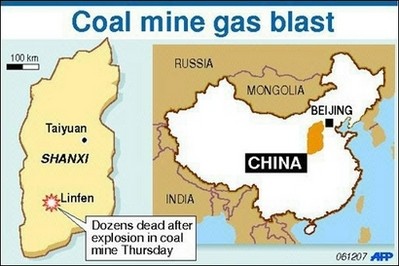 The death toll from China's latest major coal mine disaster rose to 105 on Friday, official media said
Twenty-six more bodies were recovered on Friday morning following a gas explosion at the mine in northern China's Shanxi province, according to the Xinhua news agency.

It had previously said 79 people were confirmed dead at the Ruizhiyuan mine.

At least 120 workers were in the mine at the time of the accident on Wednesday night although the exact number is not known, Xinhua said, citing the local rescue headquarters.

Fifteen people have been rescued or managed to escape, it added.

The State Administration of Mine Safety said it remained unclear how many people were still missing at the mine, which is in one of China's major coal-producing areas.

"We still don't know the exact numbers who are trapped. We are trying to clarify that," administration spokeswoman An Yuanjie told AFP.

An said that any who remained underground were likely to be dead.

"The chances of them surviving are very small because it was a gas explosion," she said.

Official media on Friday said the colliery's managers were responsible for the accident because they allowed mining in an unauthorized area of the site in an effort to extract more coal than their license allowed.

Compounding their mistakes, they allegedly failed to report the accident for more than five hours because they wanted to conduct rescue operations themselves.

An added that the people the operators did send down were not properly trained in such operations.

This wasted precious time and magnified the number of casualties, officials at the local rescue headquarters said, according to Xinhua.

"They sent rescue teams down the shaft but they were not professional rescue teams... this made the accident even worse," An said.

She added on Thursday that some of the people involved in the initial rescue work were among those unaccounted for. However, on Friday she said it was unclear exactly how many of them remained missing.

Police have detained the mine's boss and legal representative, Xinhua said.

China's coal mines are among the most dangerous in the world, with safety standards often ignored in the quest for profits and the drive to meet the nation's sky-rocketing energy demands.

Around 70 percent of China's energy needs come from coal.

The central government has previously spoken out against graft in the industry, but the nexus between corrupt local government officials and businessmen has proved almost impossible to break.

More than 4,700 coal miners died in China last year, according to official figures -- a fatality rate of nearly 13 a day.

Independent labor groups put the real toll at closer to 20,000 annually, saying many accidents are covered up.