China ratcheted up the pressure on Japan Saturday in their row over a fishing boat incident in disputed waters, calling off planned talks with Tokyo and engaging two Japanese survey vessels at sea.
The neighbours had been scheduled to hold talks later this month on issues relating to the East China Sea, where a Chinese trawler and two Japanese coast guard vessels collided Tuesday near an island chain claimed by both sides.
But Beijing, which has warned Tokyo of a "serious impact" on ties if the trawler and its crew are not released, pushed back the meeting, accusing Japan of acting "recklessly" and voicing its "strong discontent and grave protest".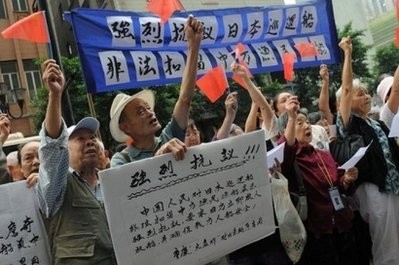 A group of elderly Chinese people hold placards reading, Strongly protest against the illegally seizure of a Chinese trawler by Japanese vessels, in southwest China's Chongqing municipality
"China has decided to postpone the second round of talks... on issues relating to the East China Sea planned for mid-September," foreign ministry spokeswoman Jiang Yu said in a statement issued late Friday.
"The Japanese side has ignored China's repeated solemn representations and firm opposition, and obstinately decided to put the Chinese captain under the so-called judiciary procedures," Jiang said.
"Japan's acts have violated the law of nations and basic international common sense, and are ridiculous, illegal and invalid," she added.
"Japan will reap as it has sown, if it continues to act recklessly."
China has so far summoned Japan's ambassador three times over the incident, with Foreign Minister Yang Jiechi receiving Uichiro Niwa on Friday and demanding the unconditional release of the fishing boat's captain and crew.
Tokyo suspects the captain deliberately rammed the two Japanese vessels in a confrontation near the disputed island chain which began on Tuesday morning, and ended after four Japanese patrol boats pursued the Chinese trawler.
The uninhabited islands -- known as Senkaku in Japan and Diaoyu in China -- lie between Japan's Okinawa island and Taiwan. They are claimed by Tokyo, Beijing and Taipei and are frequently the focus of regional tensions.
Yang on Friday "emphasised that the Chinese government's determination to safeguard the sovereignty of the Diaoyu islands and the nation's people is firm and steadfast", his ministry said.
Territorial disputes in the East China Sea have repeatedly led to strains in Sino-Japanese ties. There are four controversial Chinese gas fields in the sea that Japan says extend into its own exclusive economic zone (EEZ).
The postponed talks were intended to follow on from discussions held in Tokyo in July on plans by Asia's top two economies to jointly exploit oil and gas fields in the disputed seas.
Jiang said Thursday that a Chinese "law enforcement" ship had been sent to the area to "protect the safety" of the fishermen working there.
On Saturday, the Japanese coast guard said that ship, the Haijian No. 51, approached two of its survey vessels and ordered them to cease operations, in an area of the East China Sea which it says falls within its EEZ.
"A complaint was lodged through diplomatic channels regarding the Chinese ship's demand to discontinue the mission," the coast guard said, adding that its ships pursued their work without further incident.
The fishing boat's captain, 41-year-old Zhan Qixiong, was arrested Wednesday on suspicion of obstructing officers on duty -- a charge that carries a maximum sentence of three years' imprisonment. The crew is in detention.
A Japanese court on Friday extended Zhan's detention for up to 10 more days, until September 20. One more 10-day extension can be granted under Japanese law.
Japanese Foreign Minister Katsuya Okada on Friday urged China to handle the issue "calmly and carefully", saying: "We are just acting in accordance with the law."
Also on Friday, Japan voiced concern over China's growing military might, highlighting increased Chinese naval activities near its shores, and called for more transparency from Beijing on military spending.