China warned Somali pirates on Tuesday it was prepared to use force when its navy ships arrive in the Gulf of Aden to combat a wave of piracy that has disrupted international shipping.
Two Chinese destroyers and a supply ship set sail on Friday -- the first time in recent history that the nation has deployed ships on a potential combat mission well beyond its territorial waters.
"(If) our naval vessels are ambushed by pirate ships we will resolutely fight back to protect our own safety," Rear Admiral Xiao Xinnian said in a briefing to reporters.
"If the act of piracy is already under way and the pirates are already robbing other civilian vessels, we will suppress their acts, provided we have the capability and conditions to do so."
Xiao, who also serves as navy deputy chief of staff, said the Chinese ships would mainly be charged with protecting the nation's commercial vessels as well as the ships of international organisations such as the United Nations World Food Programme.
About 100 ships -- seven of them Chinese -- have been attacked by Somali pirates since the beginning of the year. At least one Chinese vessel is believed still to be in the hands of the attackers.
The admiral said Chinese war ships would investigate any suspect pirate vessels and approach them and demand that they show their relevant documents and certificates.
The ships would mainly stay in international waters but could enter Somali territory if the situation warranted it, he added.
The UN Security Council last week gave nations a one-year mandate to act inside lawless Somalia to stop the rampant piracy in the Gulf of Aden, part of the Suez Canal route from Europe to Asia.
But some companies are now sailing their vessels around Africa, a longer and thus more expensive route, to avoid the increasingly brazen pirate attacks -- including the seizure of a Saudi supertanker carrying two million barrels of oil.
Huang Xueping, a spokesman for China's ministry of national defence, said China would cooperate with other nations fighting pirates under UN leadership.
"We maintain that the leading and coordinating role of the United Nations should be strengthened and relevant parties should earnestly abide by international law and the concerned UN Security Council resolutions," he said.
Besides being equipped with guided missiles and artillery, the fleet of three Chinese ships will also carry two helicopters and a detail of special forces, according to Xiao.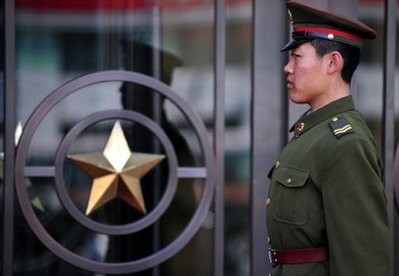 A soldier mans his post in front of the Ministry of National Defense in Beijing where on December 23
"With these weapons we will be able to combat piracy effectively," he said.
"This mission will demonstrate the resolve and the capability of the Chinese navy to deal with multiple security threats and diversified military tasks."
Ma Luping, director of China's naval operations, said the flotilla was facing up to 30 organised groups made up of as many as 1,000 pirates.
China would also be willing to provide rescue and aid services to Taiwan-owned ships as long as they registered with the Chinese government, Ma said.
"Currently we do not see any insurmountable obstacles in patrolling these areas," Ma said. "We are confident and capable of fulfilling this mission."