China expressed regret Tuesday over a World Trade Organisation ruling that its tariffs on imported car parts were not in line with global rules, and refrained from saying it would comply.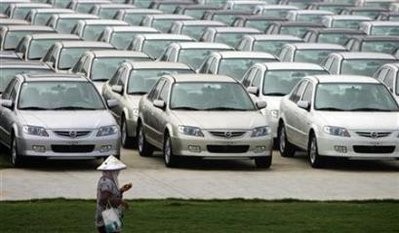 The file photo shows rows of brand new Mazda cars outside a motor factory in Haikou, south China's Hainan province October 10, 2006.
Commerce ministry spokesman Yao Jian said Beijing welcomed sections of the WTO ruling on imported car kits, but was unhappy its appeal on imported parts was turned down.
"We express our regret over the appeal panel's verdict over the rest of the ruling," Yao said in a statement on the ministry's website, referring to the judgement on auto parts.
The Dispute Settlement Body ruled in July that China's policies were inconsistent with WTO rules, a decision that was welcomed by the United States which brought the complaint along with Canada and the European Union.
China appealed against the ruling, but the WTO's appeal body said Monday in Geneva that it upheld the original verdict.