China's marine environment forecaster has removed a tsunami warning after the huge waves churned by a massive earthquake off Japan Friday afternoon were reduced to less than 50 centimeters when reaching Taiwan.
An earthquake measuring 8.8 on the Richter scale jolted the east coast of Japan's main Honshu Island at 1:46 p.m. Beijing Time Friday, causing a tsunami alert in the Asian Pacific region, but the Chinese coast has been little affected so far.
China's National Marine Environmental Forecasting Center (NMEFC) issued a tsunami warning after the quake, whose tremors were also felt in Beijing and its neighboring port city Tianjin.
But the center said the waves would not have a disastrous impact on China's coastal areas.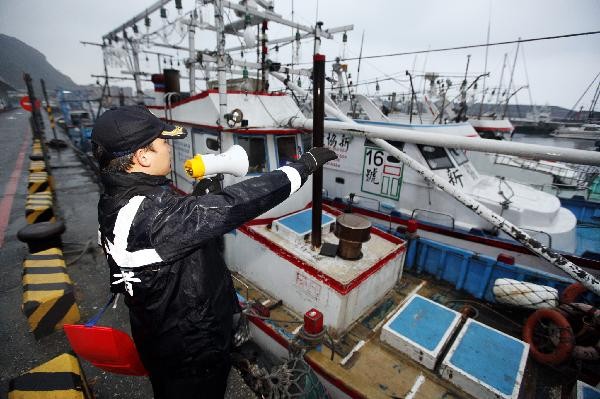 A staff member evacuates fishermen to safe area in response to a tsunami alarm in Keelung of Taiwan, southeast China, March 11, 2011. Following a strong earthquake in Japan Friday, Taiwan had earlier issued a tsunami alarm, but later sounded the all clear after foreseeing no disasters despite several small tsunamis in the afternoon
The waves reached the eastern coast of Taiwan at about 5:40 p.m., abating to less than 50 cm in height, it said Friday evening.
The center said it decided to remove the tsunami warning considering the continuously abating height of waves before reaching the mainland coast, expected at Friday night and the wee hours of Saturday.
Liu Jie, research fellow with the China Earthquake Network Center, told Xinhua that the crustal movements of the earth were active recently but, judged from a longer span of time, they were in a normal condition.