Rescuers in southwest China battled rolling aftershocks Friday as they scoured toppled buildings for survivors of an earthquake that killed 25 people and injured 250 near the country's border with Myanmar.
The earthquake that struck Yunnan province's mountainous Yingjiang county around midday Thursday caused more than 1,000 houses and apartment buildings, and parts of a supermarket and a hotel to buckle and fall. More than 127,000 of the county's 300,000 people have been displaced by the temblor, which Chinese authorities measured at a magnitude 5.8.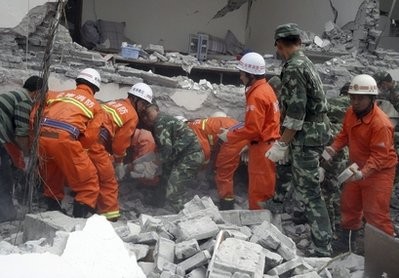 Rescue workers look for survivors in a collapsed building after an earthquake jolted Yingjiang county in southwestern China's Yunnan Province on Thursday, March 10, 2011
Police, firefighters and soldiers rushed to the area to pull out people trapped in the rubble, including a man and girl stuck in the stairwell of a four-story building, according to state broadcaster China Central Television. Rescuers with sniffer dogs searched through the night.
Jin Guangwei, an official from the Yunnan disaster relief center, said the search continued Friday but the chances of finding more people alive was shrinking. He said many of the buildings in the area were not built to resist earthquakes and fell easily.
Survivors spent the night in tents while seven aftershocks measuring up to 4.7 in magnitude shook the town, state media reported. CCTV showed people eating meals cooked in large pots over portable stoves in the morning next to tents set up in a public square.
The Civil Affairs Ministry said 25 people had been killed, while another 250 people were injured, 134 of them seriously.
Many of the injured were being treated by medical staff on a basketball court outside Yingjiang county's overcrowded hospital, CCTV footage showed. People with bandaged heads sat in chairs and were hooked up to intravenous drips, while others lay on blankets on the ground.
There was no word Friday from authorities across the border in Myanmar.
The Myanmar Meteorological Department released a statement Thursday saying a quake had hit some 230 miles (370 kilometers) northeast of Mandalay. The statement did not mention injuries or damage. Authorities in the tightly ruled country tend not to immediately discuss the effects of natural disasters.
Much of the area on the Myanmar side has been under the control of various armed ethnic groups, who have battled the Myanmar military to remain free from central government control.
The quake struck while China holds the annual meeting of its legislature in Beijing, a high-profile event that continued to feature prominently on most domestic newspapers and on news broadcasts.
Vice President Xi Jinping, expected to be the country's next leader, called for an "all-out" effort to get food, water and clothing to those affected by the quake, the official Xinhua News Agency reported. U.S. Secretary of State Hillary Rodham Clinton expressed condolences to the survivors in a statement.
More than 1,000 soldiers have been sent to aid in rescue efforts while thousands of tents, quilts and coats were being sent from the central government, state media said. The quake hit while many people, including students, were home for a customary midday rest, CCTV reported.
The mountainous area is 1,500 miles (2,400 kilometers) southwest of Beijing, close to the border with Myanmar, and is home to many ethnic groups on both sides of the border, which sees heavy traffic in people and goods.
Xinhua said the quake-prone region has been hit by more than 1,000 minor tremors over the past two months.